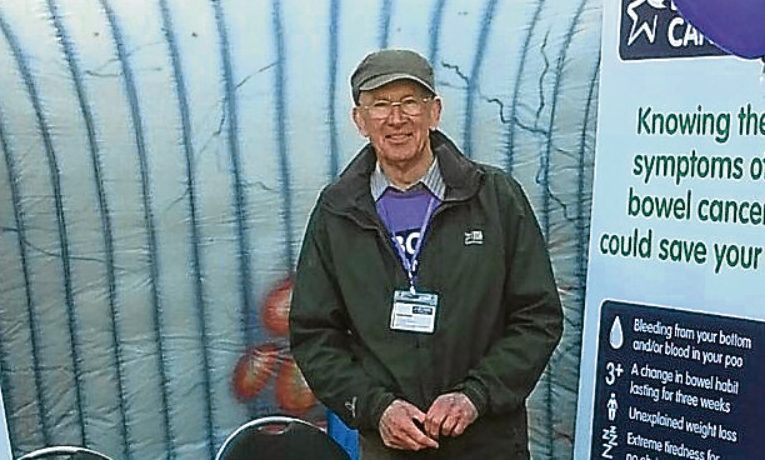 A bowel cancer survivor is dedicating his time to telling his inspiring story in a bid to educate others and let them know the disease "can be cured".
Ron Kerr, 77, was diagnosed with bowel cancer on Christmas Eve in 2013.
He was initially told by doctors that he had constipation but Ron persisted in going back to the doctors and was eventually referred to Ninewells Hospital in Dundee where tests revealed he had cancer.
After undergoing months of chemotherapy, the retired housing manager managed to pull through and is in remission.
The Forfar man now takes part in presentations on behalf of Bowel Cancer UK, which is celebrating its 30th anniversary this year.
He tells his story and makes people aware of the symptoms they need to be looking out for.
He said: "It was an incredible shock when I was told I had bowel cancer. Being told on Christmas Eve was some present and one I won't forget in a hurry.
"I was lucky, though. I caught it early and it's so important that happens when you have cancer."
Ron has recently given talks in Dundee at the City Chambers, Department of Work and Pensions offices and in various care homes.
He wants to make sure people get checked and don't leave it until it's too late, adding: "Many people hear cancer and they think it's a death sentence — but it doesn't have to be, it can be cured.
"The main thing I learnt was how much better the chances of survival are if cancer is detected early.
"I wanted to make sure people knew about it and got themselves checked.
"Another big part of the talks is to do with lifestyle and how important eating the right things and being active is in helping to prevent it."
Ron is backing Bowel Cancer UK's Walk Together campaign this summer, aimed at funding vital research.
There are national Walk Together events in Edinburgh, Belfast and London on Saturday September 23 at 11am.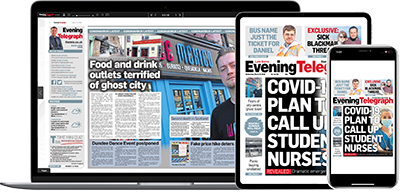 Help support quality local journalism … become a digital subscriber to the Evening Telegraph
Subscribe