An inclusive choir which has gone from strength to strength in Perth is preparing to set up in Dundee.
The Rock Choir, whose repertoire includes a varied mix of modern and classic rock and pop numbers, will be seeking new members when it sets up its all-abilities singing group later this year.
The choir group already has successful branches in Perth and Glenrothes which are set to grace the stage at Disneyland Paris in the near-future.
Rachel Leitch, who takes the Perth, Glenrothes and Stirling choirs, said they were looking forward to welcoming a wide range of singers.
She said: "We have a real mix of folk in our choirs and we have disabled as well as able bodied people.
"The only thing we ask is that you are keen to sing.
"There are good numbers in the choirs in Perth, Glenrothes and Stirling, some folk who have choir experience and some who have never sung before but want to do so.
"As well as the serious side, we have great fun and being in the choir is a fine way of making new friends.
"We have all ages in our choirs and from all backgrounds.
"In Perth, our youngest is 15 and our oldest is 85.
"Folk can come and see if they like it and, if so, fine.
"The door is open to everybody."
The choirs perform locally and at national events and 200 members are going to sing at Disneyland Paris at the end of June.
Cindy Godfrey-McKay is one of the Perth choir members who has found the Rock Choir to be a real home from home.
Cindy, a Dundee woman now living in the Fair City, has only 15% sight and suffers from arthritis.
She said: "Being a choir member has helped me greatly.
"I was in a wheelchair and knowing the choir had an event at Perth Concert Hall I was determined I wasn't going to sing at it in my wheelchair.
"I motivated myself to stand while singing and I managed it.
"There are other disabled folk in the Perth choir and I would encourage other disabled people to get involved.
"To have the choir starting in Dundee is absolutely brilliant.
"Rachel is really good with everyone.
"She helps us all so much and she is very supportive.
"Everybody is very friendly as well. It's a right good crowd and we all have a great time in practise and in concert."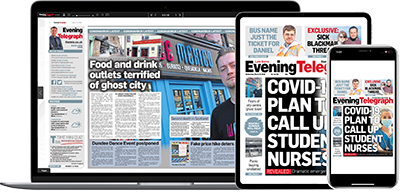 Help support quality local journalism … become a digital subscriber to the Evening Telegraph
Subscribe