It's the classic rags to riches tale that has enchanted audiences for generations.
Few will be unfamiliar with the story of poor servant girl Cinderella, her fairy godmother and the glass slipper that ultimately changes her life forever.
But that won't stop audiences having a ball when production company Robert C Kelly brings a new adaptation to the Gardyne Theatre in time for panto season next month.
Actor Scott Fletcher, who will be playing hapless servant Buttons, knows all about changes in fortune.
The 30-year-old actor is best known as charming rogue Angus Lindsay in BBC's River City, a part he's played since 2014.
But it could have been very different for Scott if the call-up from the soap writers had never come.
"Until I got the job I was thinking of packing in acting," said Scott. "I hadn't worked in a year and I was looking at the prospectus for studying to become a drama teacher when I got the call.
"I'm glad I did, because in hindsight I would have been a dreadful teacher.
"I'm really grateful for the show, as it's allowed me to work and do other things like panto and theatre."
Scott has previously appeared in panto in Glasgow, Aberdeen and Greenock, but this will be his first time in Dundee.
"I think I've only ever driven through the city on the way to Aberdeen, so it will be nice to spend some time there," he said.
"Obviously, I'm looking forward to seeing the V&A."
Scott will be appearing alongside Jenny Douglas as the eponymous heroine, while fellow River City star Tom Urie will appear as one of the Ugly Sisters alongside Scot Squad star Darren Connell.
Completing the cast will be Matthew Tomlinson as Prince Dougie, Naomi Stirrat as the Fairy Godmother and Hamish Wyllie as Dandini.
"I know Tom, even though he was leaving River City as I was joining. And I know Darren Connell a bit as well. We're all sharing digs during the show so that should be fun," Scott said.
"I also know Jenny – she played Tiger Lily when we did Peter Pan at the King's Theatre in Glasgow."
Rehearsals start on Monday, just two weeks before the curtains go up at Gardyne Road.
"Some pantos only rehearse for a week," said Scott.
"Although you're creating a new show, they all follow a certain formula. But it's still a live room, so anything can happen."
Scott admits one of the challenges will be spending time away from his Glasgow-based family – partner Jane, three-year-old daughter Daisy and little Eadie, who is just three weeks old.
"It will be different but they'll be coming to see the show at some point and we get Christmas and New Year off, so I will get to see them," he said.
"I'm really looking forward to it. I love panto. It was my first experience of theatre and it's a lot of children's first time watching live performance.
"I think Buttons is there for the very young kids watching.
"I'm not sure they would be too interested in the love story so Buttons is there to keep them laughing – hopefully."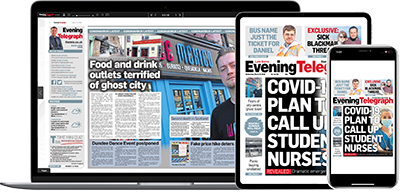 Help support quality local journalism … become a digital subscriber to the Evening Telegraph
Subscribe