Residents were woken by "low-flying" helicopters and "loud bangs" as military aircraft carried out a series of exercises over Tayside.
The manoeuvres, involving Apache and Wildcat helicopters, sparked a flurry of activity on social media from people living in the area around Carnoustie.
It is understood that the loud bangs were movie-stye special effects used as part of a battle-field simulation exercise at the Barry Buddon training grounds.
No live ammunition was used.
Residents also said flares had been lit at Barry Buddon.
One resident posted: "Helicopter just flew really low along Dalhousie Road, heading towards Dundee.
"Thought it was about to land on our roof!"
Scott Robertson said: "Sounded like explosions!"
Some locals were angry they hadn't been notified in advance.
Kimmy Taylor wrote on Facebook: "Not that I'm concerned … but some warning for the community before now would've been a good idea?
"Some residents may have found this very unsettling."
Muriel Glen added: "Yes, people should be informed about these exercises beforehand.
"Most people wouldn't mind security manoeuvres taking place if they were forewarned."
The Ministry of Defence lists a 24-hour exercise called Talon Python, involving helicopters, as taking place across Scotland between November 12 and 23.
The MoD said: "Due to two routine military exercises, there may be an increase in helicopter activity in the area between November 12-December 6 inclusive.
"Both exercises will involve some night flying around the coastal area.
"However, as the helicopters, in the main, are not based at Leuchars, it's expected the activity will be low level.
"Any low flying complaints should be forwarded to the MoD Low Flying Complaints and Enquiries Unit on SWK-lowflying@mod.gov.uk or 01780 417 558."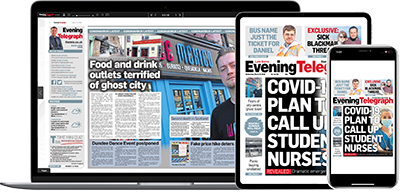 Help support quality local journalism … become a digital subscriber to the Evening Telegraph
Subscribe