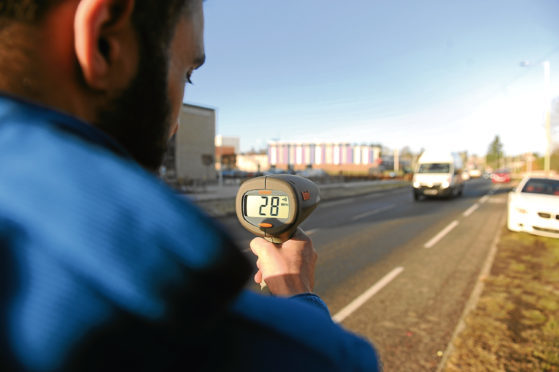 Drivers are flouting speed limits on some of Dundee's busiest streets every day — many as children walk to school.
A special Tele investigation found people willing to drive at nearly double the speed limit on some occasions.
We took a speed gun to speeding hotspots across the city, and in just a short space of time found dozens of folk breaking the law.
In just an hour, we caught 51 people speeding across six separate locations, including commuter routes and roads near schools.
In Harestane Road, outside the new Baldragon Academy and Sidlaw View Primary, our device recorded a total of 12 cars going over the limit between 8.50am and 9am, just as pupils arrived for lessons.
Despite a 20mph limit being in place along the stretch, several drivers ignored it — with one Volkswagen Passat going at 38mph.
Raymond Ogilvie, 71, a taxi driver in the area, said he thought motorists felt they could go faster because of the width of the road.
But he added: "If it is a 20mph zone, people should be going 20mph or under. I would never have thought there would be so many speeders on the road in just 10 minutes."
Resident Nicaey McArtney, 39, told the Tele she believed heavy congestion in the area was making drivers rush when given the chance.
The Tele moved on to Dundee Road, at the entrance to Broughty Ferry, where a 30mph limit was extended west a couple of years ago — reducing the limit from 40mph. And it proved to be another route with speeding problems, with a total of 17 motorists flouting the law, two of them hitting 38mph despite the obvious presence of the speed gun.
One resident, who declined to be named, said he had spent the last 20 years fighting for more road safety measures to be put in place.
He added: "I had meeting after meeting and, finally, managed to have the chevrons put down. You see people going 50, 60, 70mph here. There have been crashes in the 22 years I have been here — one boy died after crashing down the road."
However, retired publican Maureen Warnock, who lives alongside the road, said she wanted to see the limit moved up again to 40mph.
She said: "I don't have any issues getting out of my drive – it is a large road and I think it should be 40."
St Leonard Place, near St Andrews Primary, has previously been identified as a speeding hotspot by locals. In 10 minutes, at 11am, we only clocked two drivers going above the limit at speeds of 31mph and 34mph.
But resident Jemma Tait, 18, insisted the problem was worse than our stats showed and revealed her dog had been knocked down there by a speeding driver.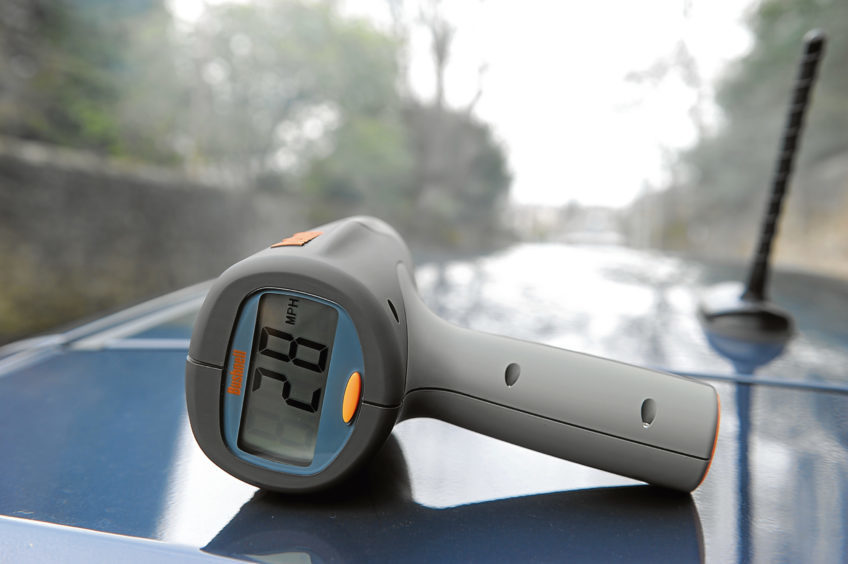 Calling for the council to install speed bumps to slow traffic, she said: "The road's terrible, something needs to be done."
The Tele also surveyed a stretch of Strathmartine Road, north of the Kingsway, around lunchtime.
Eight cars were caught in a 10-minute spell going above the limit, some by nearly 10mph.
Local Hilary Anderson, 58, an early years practitioner, said the volume of traffic had made the road more dangerous.
She said: "There weren't anywhere near as many cars on the road when I moved here in 1989 — I think that has made the problem much worse."
Hannah Gowans, 21, a childcare worker, said that she fears taking her dog out because of the speed of drivers there. She said: "It is a bad road — they should be doing something to slow people down."
The Tele also visited Old Glamis Road, with four drivers breaking the limit, and Perth Road, outside Harris Academy, where eight drivers were clocked above 30mph.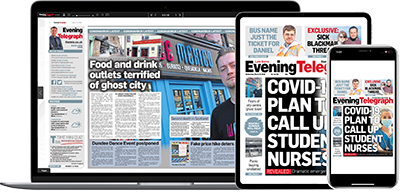 Help support quality local journalism … become a digital subscriber to the Evening Telegraph
Subscribe