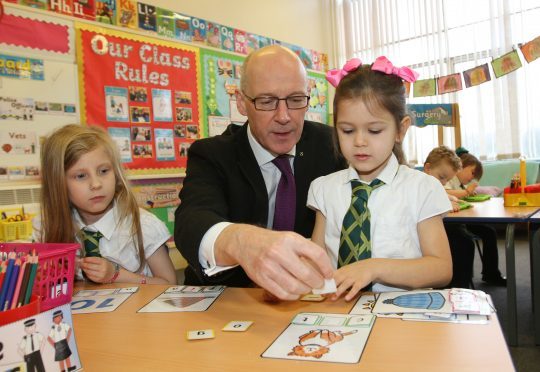 Dundee's headteachers are to be given nearly £5 million to spend on their pupils, it has been announced.
The heads of 45 city schools are being awarded the money by the Scottish Government in a bid to ensure that all children receive an equal education and to close the poverty-related attainment gap.
Schools to receive funding include Baldragon Academy (£133,200), Braeview Academy (£128,400), St Paul's RC Academy (£202,800), Rowantree Primary (£189,600) and Sidlaw View Primary (£120,000).
Headteachers will be allowed to use the money as they see fit in their schools in partnership with city council education chiefs.
In an interview with the Tele, Deputy First Minister John Swinney said the level of funding being awarded to the city's schools was a reflection of the levels of poverty and deprivation in Dundee.
Mr Swinney, who made the announcement at Dundee's St Francis Primary (pictured right), said a lot of good work was already going on in schools throughout the city.
He said allocations awarded to schools by the Government are based on the number of pupils from P1 to S3 who are eligible and registered for free school meals.
Schools throughout Scotland will benefit from funding. Dundee will receive £4,980,840 to be divided among 45 schools, including Kingspark and the offsite education service.
That compares with 61 schools in Aberdeen, which are set to receive a total of £2,845,080, and 110 in Dumfries and Galloway which will receive £2,972,520.
Mr Swinney said: "The level of funding given to Dundee City Council schools is a reflection of the level of poverty in Dundee. The Government has directed money where it is most needed and Dundee is set to benefit significantly from that. Headteachers will be able to use part of this money to close the attainment gap and it will also be used in family well-being and broader family care.
"I think £5m is a fair amount for Dundee schools to receive. Headteachers will work in partnership with the local authority to research how best the money can be used to help children and families. What has been happening at St Francis is a very good example of how the money can be spent to alleviate the problems families face due to poverty.
"I have visited schools where this funding has empowered teachers to put in place creative new initiatives that are tackling the attainment gap in their schools right now."
Neil Lowden, head teacher at St Francis, said: "There is no doubt having this extra resource has allowed me to further develop the work of the Scottish attainment challenge to provide high-quality targeted interventions to close the attainment gap."
Mr Lowden said a new project he was excited about was a tea-time homework session aimed at families.
He added: "We want to invite parents into the school to have tea with their children and at the same time help them with their homework. This will bring families together and will also help children to improve their literacy and numeracy while enjoying family time."
Dundee's chief education officer Audrey May said the council's education department would work closely with teachers to decide how each school would use the money.
She added: "This money will go a long way to improving literacy and numeracy at our schools.
"It will also be of major benefit to families as a whole in vulnerable areas where that level of assistance is most needed."
Martin MacGregor, from St Paul's RC Academy Parent Council, said: "Anything that allows a child who comes from a less affluent background to help them to achieve more is always a good thing.
"The way the money is used in order to benefit young people is what we'll be hoping to have a discussion with the teachers about."
Schools in city set to receive funding boost
Ancrum Road — £114,000
Ardler Primary — £ 71,280
Ballumbie Primary — £189,600
Baldragon Academy — £133,200
Barnhill Primary — £36,000
Blackness Primary — £66,000 ­
Braeview Academy — £128,400
Camperdown Primary — £153,600
Claypotts Castle Primary — £186,000
Clepington Primary — £149,040
Craigiebarns Primary — £85,200
Craigie High — £146,400
Craigowl Primary — £164,400
Harris Academy — £171,600
Dens Road Primary — £117,720
Downfield Primary — £135,000
Eastern Primary — £57,600
Fintry Primary — £152,400
Forthill Primary — £39,960
Grove Academy — £72,000
Glebelands Primary — £102,000
Longhaugh Primary — £154,800
Mill o' Mains Primary — £79,200
Morgan Academy — £183,600
Our Lady's RC Primary — £ 60,000
Rosebank Primary — £60,000
Rowantree Primary — £189,600
Sidlaw View Primary — £120,000
St Andrew's RC Primary — £105,600
St Clement's RC Primary — £103,200
St Fergus RC Primary — £51,840
St Francis RC Primary — £236,400
St Joseph's RC Primary — £61,200
St John's RC High — £178,800
St Mary's RC Primary — £124,800
St Ninian's RC Primary — £ 68,400
St Paul's RC — £202,800
St Peter & Paul RC School — £157,200
St Pius RC Primary — £96,000
Tayview Primary — £120,000
Victoria Park Primary — £82,800.