A new pizza and wine restaurant is set to occupy the premises vacated by a popular eatery which closed suddenly in Dundee's West End.
The Giddy Goose, described as an "exciting pizza and wine bar", is set to open in the former Meat House on Perth Road.
The new venue was granted a licence by council chiefs yesterday, and will operate as a sister restaurant to the White Goose – which opened on Dock Street in November.
Lauren Clegg, who owns and directs both eateries with partner Calum Runciman, said she was delighted to see the new venture given the go-ahead.
She said: "This is great news and we can now push ahead with plans to open the restaurant.
"We can't give an opening date yet as there are still things to be sorted out but we can say it will be imminent.
"We are keen to open as soon as possible and hope to be able to give out more information in the near future."
Lauren said she hoped the new restaurant would follow in the footsteps of the White Goose, which has proved popular with locals since opening its doors.
She said: "We have had incredible success with the White Goose in a very short period of time so are keen to proceed with the new restaurant at the Giddy Goose.
"It will be run as the same concept as the White Goose, as a pizza and wine bar, but I don't want to give away too much just yet.
"Suffice to say it's going to be very exciting."
Joe McConville, who owns the Meat House building, said he was happy to see the couple moving in and praised the licensing board's decision.
He said: "This is very good news and will provide another fantastic restaurant on Perth Road.
"Lauren and Calum are a lovely couple and I wish them every success."
West End Community Council had objected to the licence bid amid fears the new venue would operate as a bar rather than a restaurant and could disturb local residents.
But Mr McConville said: "Following the board meeting, a representative from the community council approached me and said it was happy to support the new business."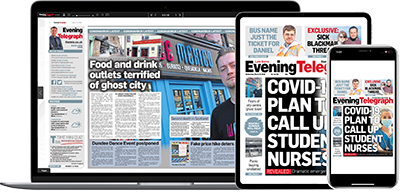 Help support quality local journalism … become a digital subscriber to the Evening Telegraph
Subscribe