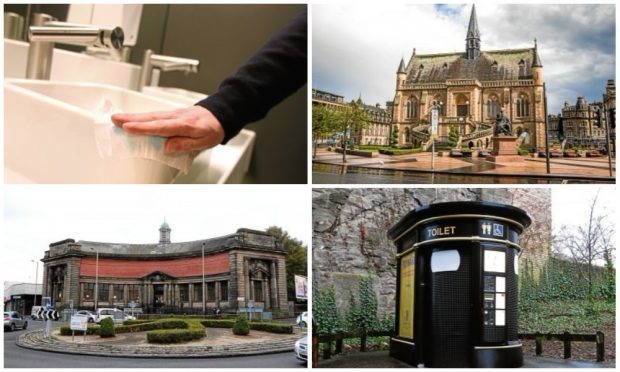 Evidence of cocaine has been found in some of Dundee's best-known public buildings, the Tele can reveal.
Drug tests carried out at a number of city landmarks, including museums and libraries, returned a positive result for the Class A drug.
Using swab testing kits, we visited a number of buildings that are regularly used by families.
Positive results were found in the male toilets at McManus Galleries, Seagate bus station, Overgate shopping centre, Wellgate shopping centre, Hilltown public toilets and Coldside Library.
Tests were also carried out in supermarkets. Traces of cocaine were found in the male toilets at Tesco in South Road, Sainsbury's in Tom Johnston Road and Asda Kirkton.
Light pink wipes in the testing kit turned blue when rubbed over surfaces in the toilet area of the buildings, indicating they had come into contact with traces of cocaine.
Each swab is soaked in a reactive chemical fluid, which gives it a slight pink colouring. When wiped over a surface with cocaine residue, it immediately changes colour to blue.
Toilet surfaces, toilet roll holders, hand-dryers and sinks were all swabbed as part of the Tele's investigation. Negative results were returned at Dundee Sheriff Court, the Olympia, Central Library and Morrisons in Linlathen.
Stella Carrington has spent several years analysing the impact of drug misuse in the city.
The Charleston campaigner said the latest revelation should act as a trigger to introduce drug consumption rooms. She said: "It's disgraceful. Nothing is being done to help the problem and I believe the only way anything will change is if we have safe rooms for people to take drugs.
"If that doesn't happen, we're still going to see people exposed to those taking drugs in public places which nobody wants to see.
"I sat on the alcohol and drug partnership for years and it was all talk — nothing has been done."
Dave Barrie, from the city's Addaction charity, said: "Cocaine is causing a lot of people significant problems.
"We're seeing people who've lost good jobs and families and become more out of control with cocaine use."
A Dundee City Council spokesman said: "The council and its partners across the city are looking at innovative ways of tackling the problems that drugs cause for people in our communities. Dundee Health and Social Care Partnership recently approved the development of a commission on drug misuse to consider these serious issues."
Malcolm Angus, centre manager of the Overgate, said: "We are aware there is a drug problem within Dundee and indeed the city centre. Our security team continually patrol all areas of the centre to ensure guest safety and all areas are continually monitored for cleanliness/hygiene.
"We would obviously be prepared to work closely with local agencies and DCC on any initiatives to try to reduce the issues."
A spokesman for Leisure and Culture Dundee, which runs The McManus, libraries and leisure facilities, said: "Staff at The McManus check the toilets every hour. They have not encountered this problem but they will address any behaviour which is inappropriate."
A spokeswoman for Sainsbury's said it would always take "appropriate action" if customers were found to be misusing toilets.
Asda, Tesco, Morrisons and the Wellgate had not responded to a request for comment as the Tele went to press.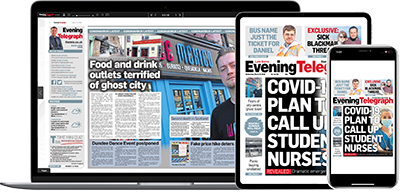 Help support quality local journalism … become a digital subscriber to the Evening Telegraph
For as little as £5.99 a month you can access all of our content, including Premium articles.
Subscribe