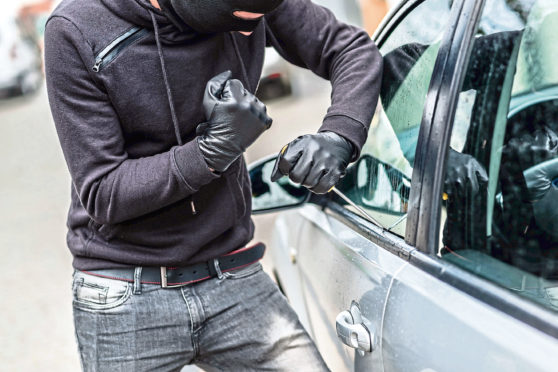 More than 500 vehicles have been reported stolen in Dundee in the last three years, new figures have revealed.
A total of 512 motor vehicle thefts were logged by Police Scotland in the city between January 2015 and September 2018.
Craigie remains the worst-hit area in Dundee for car thefts.
Figures obtained by the Tele via a freedom of information request show that there have been 42 thefts recorded in the area since 2015, with only 16 detections.
This was followed by Linlathen with 38 incidents during the same period.
Officers traced the culprits in 25 of those cases.
Although Craigie had the dubious honour of being top of the list for the last three years, the Law area had the most vehicle thefts between January and September this year.
Eight thefts were recorded with three detections. Seven thefts were recorded in Craigie, only one of which was detected during that time.
Other hotspots this year included Charleston, Logie, Lochee and Dryburgh.
A spokesman for Police Scotland said there are measures that can be taken to prevent thefts.
He said: "Never leave your car unattended to defrost windows with the keys in the ignition. Many car thieves actively target this – even first thing in the morning when darkness can provide cover.
"Any insurance claim could be adversely affected, as it may be considered driver negligence.
"It's also an offence to leave a car unattended on a road with the engine running."
Vehicle thefts in Dundee are in decline, having dropped every year since 2015.
There were 153 incidents logged in 2015, which fell to 131 the following year.
In 2017, officers recorded 100 thefts.
Of the 512 recorded over the last three years, there have been 266 detections.
Mark Godfrey (pictured right), insurance director at the RAC, said: "Drivers can take certain steps to reduce the likelihood of their vehicle being stolen.
"For example, parking in well-lit areas, not leaving anything valuable on view inside and, of course, never leaving the keys in the ignition when they're not in the car.
"Anti-theft devices such as steering wheel locks are starting to make a comeback as they are still a very effective visible deterrent.
"Telematics – or black box – technology is another potentially useful weapon in the fight against the theft of cars.
"We have seen several instances where we have been able to track stolen vehicles using RAC Telematics devices and have even helped the police recover vehicles successfully."
A number of vehicle thieves have been jailed in the last few years. In June 2017, 25-year-old John McGrandle, Stewart Burns, 33, and Damien Forbes, 31, were locked up for their part in stealing seven cars worth £40,000 from Ancrum Autos.
John Forbes, 36, was jailed for 21 months in January that year for stealing several cars in Broughty Ferry and Perth. While car thefts are still an issue in Dundee, recent figures show that Perth is one of least likely places to have a vehicle stolen in the United Kingdom, recording just 0.7 vehicles stolen per 1,000 capita between 2013 and 2018.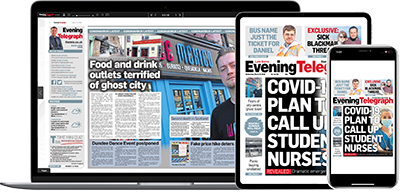 Help support quality local journalism … become a digital subscriber to the Evening Telegraph
For as little as £5.99 a month you can access all of our content, including Premium articles.
Subscribe