Nearly 800 bicycles have been stolen in Dundee in the last three years.
Figures obtained by the Tele revealed that 774 bikes were nicked in the city between April 2015 and December last year – an average of almost four every week.
The relative majority of the thefts – a total of 139 – occurred in the eastern edge of the West End.
However, the trend is falling, with recorded thefts dropping by a fifth between 2016 and last year.
The council's cycling czar Councillor Kevin Cordell encouraged people to use the authority's secure bike sheds.
He said: "It's really disappointing to hear about these acquisitive crimes.
"If people see anything suspicious they should report it to police.
"A bike is an investment in a healthier lifestyle and owners should make sure they are storing them securely.
"I would suggest making sure your bike is padlocked securely at any given location.
"I would also highlight the new bike shed at the railway station which can hold up to 120 bikes, protected by cctv.
"You can leave your bike there securely overnight."
Neil Quinney, of Dundee Cycling Forum, said: "It really comes down to basics such as locking your bike, even if you go into a shop for two minutes. It takes no time at all for it to disappear if you don't.
"Get as good a lock as you can and consider buying both a cable lock and a D-lock – anything that can put a thief off and make them think twice.
"Secure your bike if you keep it in a close and remember accessories such as lights or quick-release wheels."
Neil said thieves scour cycling apps such as Strava to learn riders' favourite routes and find expensive bikes, treating the digital tools as a "shopping list".
He added: "When you get your bike, take photos of it and note its serial number, and register it with someone like Immobilise. It's better to be prepared."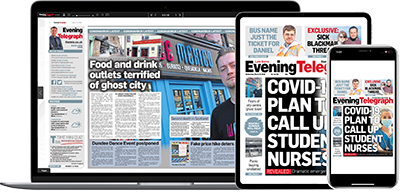 Help support quality local journalism … become a digital subscriber to the Evening Telegraph
Subscribe