More than four pupils a day are excluded from school in Dundee – with up to half down to kids attacking, threatening or even stalking staff.
Data obtained by the Tele via freedom of information laws shows that more than 2,000 exclusions have been made in the last three school years, up to last month.
However, incidents involving members of school staff were listed as a contributing factor in 1,000 exclusions between August 2015 and April this year.
They included 662 instances of pupils verbally abusing staff and 102 threats of physical violence – including brandishing weapons.
Pupils have also attacked teachers and other school staff more than 200 times in the last three years.
Head teachers logged 191 unarmed assaults, 13 involving weapons and another 16 in which pupils used "improvised" weapons – anything from stationery to textbooks.
Among the most frequently occuring reasons for children being excluded include disobedience, refusing to attend classes and fighting.
However, pupils' wars on teachers and other staff have also extended beyond the classroom in recent years.
A handful of incidents have seen kids damage their personal property belonging to education staffers, and the number of malicious communications made against teachers has risen since 2015.
There have even been a small number of thefts from staff, threats of sexual violence and incidents where pupils have stalked education workers.
However, exclusions as a whole are falling. In secondary schools, which account for almost three-quarters of all exclusions, they are down 10% year-on-year.
Paul Clancy, executive director of children and family services at Dundee City Council, admitted the relationship between pupils and staff has changed over the years.
However, he said the council's efforts to reduce classroom disruption through the use of new support staff were paying off.
"There's a different kind of relationship than the one that used to prevail in a school," he said.
"There used to be an authoritarian kind of relationship – but now we try to reason with pupils to work out what the issues are, in a co-operative way. It will take a while but there are things that can come from that."
Mr Clancy added that he backed teachers' right to work in a safe and non-hostile environment – and that clear ground rules had to be made.
"A young person may have to be excluded from class – but certainly not from school," he said.
"Support staff can find out why their behaviour is occuring as long as they're in the system.
"But to me one incident is one too many and we take all incidents seriously. Teachers have a right to feel supported and protected at work. The number of exclusions is falling, which shows there's some success in what we're doing – but we want to work closely with teachers to see what else we can do.
"We have to get clear policies across on the relationship between pupils and teachers (together with) positive reinforcement of their importance."
More than one reason may be given for exclusions.
In the last three years they have included 886 cases of "general or persistent" disobedience, 621 occasions of insolent or offensive behaviour, 266 refusals to attend class and 176 fights amongst pupils.
Guidelines to deal with disruptive pupils
Teachers in Dundee are issued with a set of guidelines advising them on how to de-escalate situations with disruptive pupils without resorting to physical intervention.
Staff working for Dundee City Council are offered Crisis, Aggression, Limitation and Management (CALM) training in order to physically restrain pupils.
However, interventions are viewed by the authority as a "last resort" only used when necessary – and when legally justifiable, such as when that pupil, or others, are at risk.
An excerpt from the council's Physical Intervention Guidelines reads: "It should only be used for prevention of significant harm/ significant crime."
The de-escalation guidelines published by Dundee City Council and issued to teachers suggest "avoiding confrontational practices".
However, teaching union the EIS says teachers should not be forced by employers to have to learn restraining techniques, or tolerate disruptive pupils.
Teachers are also advised that engaging in acts of restraint brings the possibility of legal action – and to tread lightly if faced with a classroom crisis.
Union advice reads: "Any act of restraint brings the possibility of legal challenge to teachers and judgment made through a legal process rather than through a local authority's policies."
EIS local branch secretary David Baxter previously said that Dundee City Council faces the threat of teachers walking away from the job if action isn't taken against violent pupils.
He said: "If you don't give teachers good working conditions, that is affecting young people's learning conditions.
"They didn't sign up to be bouncers."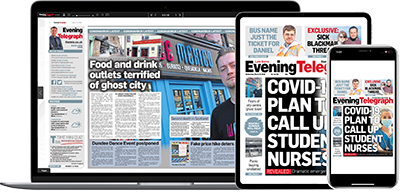 Help support quality local journalism … become a digital subscriber to the Evening Telegraph
For as little as £5.99 a month you can access all of our content, including Premium articles.
Subscribe