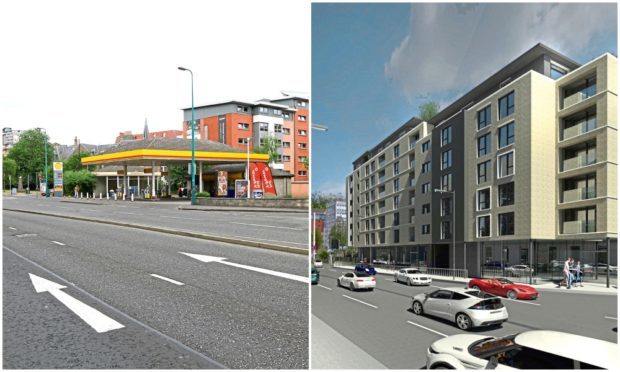 Plans for a new multi-million-pound building in Dundee city centre have been unveiled.
Carnoustie architecture agency Brunton Design is preparing to submit plans for a £6 million block of flats and retail development to the city council.
The distinctive building would be made up of 43 flats and retail units and a restaurant on the ground floor.
Brunton's proposals – on behalf of an independent client – have been designed to compliment neighbouring listed buildings and bring additional footfall to the area.
The site, on Marketgait, is home to a Shell station and is next door to the Hampton by Hilton hotel.
Allan Mudie, a partner at Brunton Design, said the proposals were the culmination of years of discussions with city planners.
Mr Mudie said: "We have been in discussions with the local authority for about two years now, but the whole plan has been on the go for about six.
"There have been a number of ideas – we spoke about a hotel, or student accommodation, but they never got positive feedback.
"We've now gone into flat accommodation and retail and the council has been very supportive. We think they're keen to see it happening."
The Marketgait proposals are one of a small number of developments cropping up away from the Waterfront.
Mr Mudie said: "Because of the Waterfront people have a keener interest in looking at city centre sites for development.
"If it wasn't for that there wouldn't be any of the interest there is now. Companies in Glasgow and Edinburgh will be watching to see what the appetite is. They see Dundee as an untapped opportunity."
The Marketgait project is the biggest, in terms of cost, that Brunton has worked on yet.
Mr Mudie added: "One of the reasons we think the council are so keen is because they want to take some of the attention away from the Waterfront.
"The petrol station works on its own but I'm assuming our client believes they can get more out of the site."
Mr Mudie says the developer has given his firm free rein to design the new building, and plans are set to be submitted to council "imminently".
The plans received mixed reviews from the public.
Pat Rae, 49, an admin assistant from the East End, said: "You have buildings across the road which are lying empty – I don't see why they aren't developed instead. You get a lot of traffic but a lot of it is commuters so I don't think it would attract many folk to the restaurant or shop. I don't think it would be of much benefit."
Colin Potter, 52, a telecoms engineer from the West End, said: "I think it's a good idea. There's always a need for new housing. These will maybe not be that cheap but it might be that people move into these and free up other houses in the city."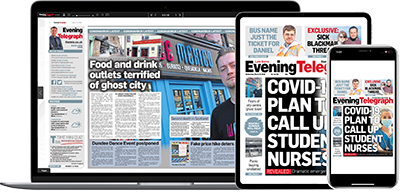 Help support quality local journalism … become a digital subscriber to the Evening Telegraph
Subscribe