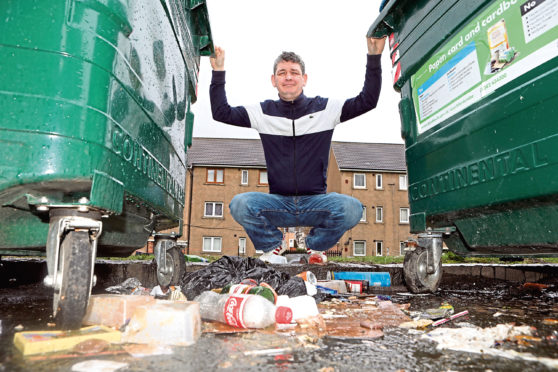 A Logie resident claims his street has turned into a "nightmare" since the arrival of Eurobins.
David Marr said overflowing rubbish has become commonplace since the bins were introduced on Loganlee Terrace last year.
The 44-year-old said he has seen dirty nappies and used sanitary towels spilling out of the bins in the last few days.
He said part of the issue was the lack of bin provision on neighbouring Tullideph Road.
David added the problem had been raised with Dundee City Council on multiple occasions.
He said: "The lack of provision on Tullideph Road has been a massive factor in our bins constantly overflowing.
"There is only one set of bins for paper, rubbish and plastic to cover eight blocks of flats.
"Neighbours are coming to the back of the flats to use the Eurobins on Loganlee Terrace due to the lack of bins on their street.
"This has been brought to the council's attention."
The factory worker has recorded a video diary documenting the problems over the last 12 months.
He added: "I've taken films of when the rubbish has been overflowing.
"There is footage of a refuse worker kicking it off to the side.
"Once the bin is emptied the gulls follow behind.
"In all honesty I do feel sorry for the refuse staff – they've probably got deadlines to stick to and don't have time to pick up overflowing rubbish.
"There have been occasions where I've picked it up myself but it's not really my job to be doing that.
"I also have dogs and it's concerning that some of the rubbish is broken glass and used sanitary towels.
"Kids play out in the area as well and it's unhygienic – dirty nappies are just yards away from where they play."
A council spokesman said: "Officers will be speaking to residents directly to look at the issues and discuss potential solutions."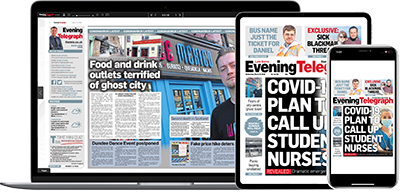 Help support quality local journalism … become a digital subscriber to the Evening Telegraph
For as little as £5.99 a month you can access all of our content, including Premium articles.
Subscribe