A special recruitment information afternoon for anyone considering applying for one of the 40 new social security jobs in Dundee is to be held tomorrow.
Ginny Lawson at the Brooksbank Centre in Mid Craigie said they were holding a recruitment day in the centre beginning at noon and going on until 6.30pm.
Ginny said: "There are 40 new social security staff currently being recruited in Dundee.
"The agency are looking for people from various backgrounds with life skills that are transferable into learning a new job.
"We are holding the recruitment day to give out as much information as possible."
Once fully operational, Social Security Scotland is likely to employ more than 1,900 people, with at least 1,500 divided evenly between Dundee and Glasgow, and more than 400 more people employed across the country.
Its headquarters in the City of Discovery will initially be based on the second floor of Dundee City Council's North Lindsay Street base.
Ginny added: "This is a fantastic opportunity and we want to help people to start their application.
"There's no booking required we would just like people to come along and meet our staff and see a presentation about the recruitment."
Details of the roles and how to apply can be found at jobs.socialsecurity.gov.scot.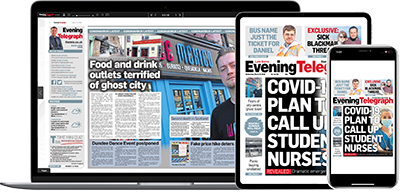 Help support quality local journalism … become a digital subscriber to the Evening Telegraph
For as little as £5.99 a month you can access all of our content, including Premium articles.
Subscribe