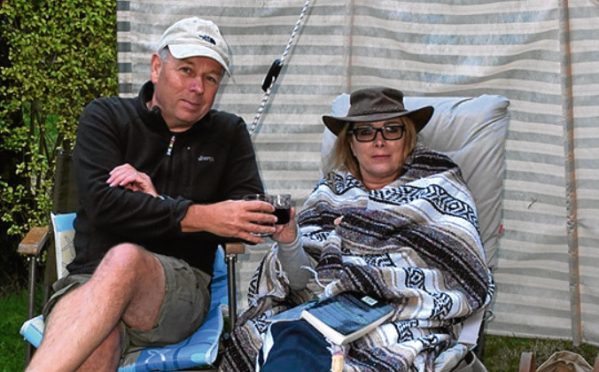 A Dutch coffee shop owner has launched an appeal to track down the owners of a camera who he believes are from Dundee.
Patrick Gerritsen found the Fujifilm x10 in his store at Arnhem, in the east of the Netherlands.
It was left behind at his shop Lunchcafé de Markt last Monday.
It features photos of a pair at a camping ground, a man with a glass of wine and a vehicle parked on grass in front of a tent.
Speaking to the Tele in a bid to track down the owners, Patrick — who has run the store for eight years — said he was hopeful of getting it back to these shores.
The 43-year-old added: "I thought they would come back for it in a few days."
But after the owners failed to return, it left Patrick little option but to put an appeal out online.
He downloaded four images from the camera, in the hope someone would recognise the people in them.
But so far, no one from his homeland has come forward despite it being shared hundreds of time online.
He added: "I shared it online this week, but it has only been shared in the Netherlands.
"One of the pictures has a vehicle in it, which is registered to a Dundee licence plate."
Now, he has extended his search to Tayside and the rest of Scotland, enlisting the help of the Tele.
Patrick said he remembers staff members talking to people who had Scottish accents on the Monday.
However, with the shop being busy there was not much more information gathered about them.
He added: "We would like to help find these people and send it back, or we will just have to leave it here.
"Colleagues of mine remember talking to the people in our shop — I believe they were definitely from Scotland.
"They ordered coffee and sandwiches."
Patrick, who is married to Emmy, said some of the other photos did not appear to be taken in the Netherlands.
He added: "There are some pictures on the camera which look like they were taken in England and Belgium."
Since he has run the shop, Patrick said this is not the first time someone has left a camera.
He said: "A few years ago, some people from Spain left a camera behind. We never found them."
If you have any information on who the camera belongs to, contact the Tele via Facebook or email newsdesk@eveningtelegraph.co.uk.