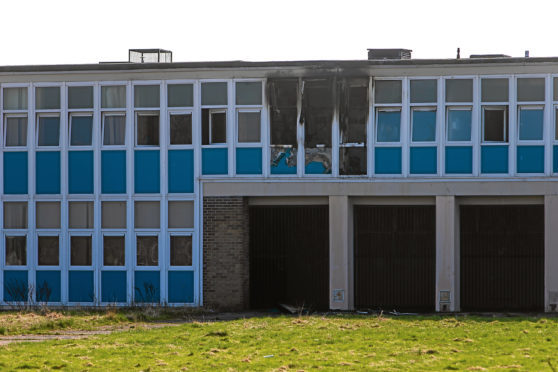 The leader of Dundee City Council has said he is seeking reassurances over security after a blaze ripped through a former Dundee secondary school.
A police investigation was launched into the cause of the fire, which took place at the old Baldragon Academy on Saturday.
John Alexander, who is also councillor for the area, said: "I'm awaiting further details about the nature of this fire from the Scottish Fire and Rescue Service.
"As always with these things, it is particularly concerning when it occurs in a built-up residential area.
"I will be seeking reassurance on the security of the site today as the demolition of the building continues to move forward and in light of this latest incident.
"I know that the fire crews were on site quickly and in some numbers and we should thank them for their swift response."
Labour leader and ward councillor Kevin Keenan said he was very concerned at reports from residents that youths have been seen getting access at the former school, which closed in February.
Mr Keenan said: "These reports are very concerning. I understand local youths have been getting access to the school and a certain amount of damage has been caused, including broken windows.
"If this has been a case of deliberate fire-raising, I hope the police get the culprits as quickly as possibly.
"Not only did this fire cause people's lives to be put at risk it also cost a huge amount of recourses.
"There was a large response from fire and police whose lives were put at risk fighting this blaze.
"Although the building is due for demolition this must not in any way lessen any punishment handed out if it is discovered this fire was started deliberately."
More than 40 firefighters attended the Kirkton site of the former school in Burn Street as the blaze ripped through various buildings.
The Scottish Fire and Rescue Service confirmed that six pumps and a command support unit fought the blaze, which broke out just after 3.30pm on Saturday, for more than four hours.
Crews initially struggled to gain access through the gates into the boarded up former school.
No injuries were reported although there was significant damage caused to various parts of the former school.
One resident said: "I think the security cameras have all been taken away."
Fire crews spend four hours at old Dundee school after blaze breaks out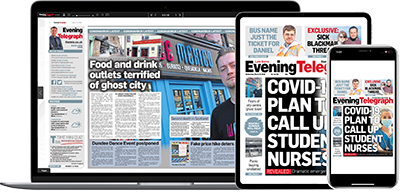 Help support quality local journalism … become a digital subscriber to the Evening Telegraph
Subscribe