A famous 60s singer has backed a Dundee indie band just weeks after they feared being sued for using his old group's name.
Steve Ellis sent his best wishes, via The Tele, to the band formerly known as The Love Affair, the same name as his 1960s' outfit.
Dundee band change their name after legal threat from chart-topping '60s group with links to Rolling Stones
The city musicians are keeping their new name under wraps until they release their latest single in a few weeks.
But Ray McKinnon, 22, who is on vocals and rhythm guitar, was stunned when the news was broken to him.
He said: "Wow! That's great. That's nice to hear and it was good of him to say that.
"I have heard he has a big following in Dundee and played here years ago."
Ray, the son of former Dundee United footballer and current Falkirk manager, Ray senior, had originally feared the worst when an associate of Ellis contacted him through Facebook to say they could land themselves in "hot water" as a former member of the original Love Affair retained the rights to the name.
And several more messages prompted a meeting of the band, who then voted to change their name.
Ellis contacted the Tele to insist he never threatened legal action and neither did his associate Kevin Wallbank.
He said: "I have a lot of love and a long association with Scotland, especially Dundee, going back to the 60s and all we were doing was giving friendly advice via Facebook as we had no other contact details to hand.
"Kev and I were trying to help the band before things escalated and they found themselves being sued – and not by me I hasten to add.
"I wish the boys nothing but luck and I have said so, but maybe in future they should do their homework because this industry can be very harsh, hence Kev in good faith giving them the heads up."
The Dundee group are performing at Beat Generator on Saturday.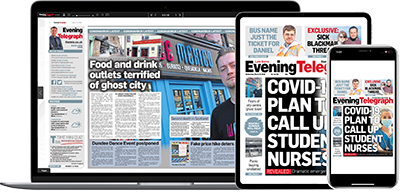 Help support quality local journalism … become a digital subscriber to the Evening Telegraph
Subscribe