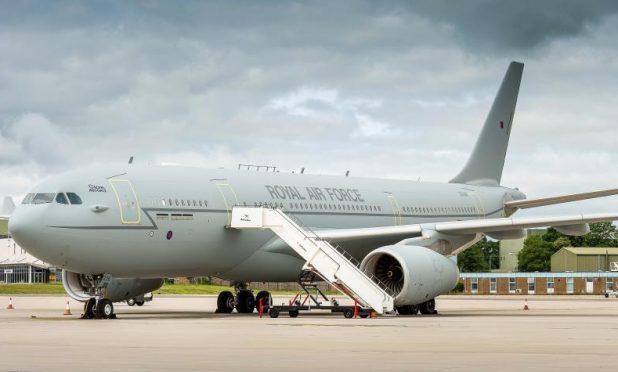 RAF fighter jets were travelling towards Dundee this morning to intercept Russian plans off the Scottish coast.
Two Typhoon fighters took off from RAF Lossiemouth just before 9.30am in response to Russian planes approaching UK airspace.
The type of Russian plane has not yet been been confirmed as the operation is "ongoing".
#QRA Typhoon out from RAF Lossiemouth

?? Royal Air Force
Typhoon ZK323 QRA00002 pic.twitter.com/ELDVkzVDeV

— CivMilAir ✈ (@CivMilAir) January 15, 2018
Voyager & Typhoon heading south…

ZZ334 still on a NATO #QRA squawk pic.twitter.com/rV1YyfUZTa

— CivMilAir ✈ (@CivMilAir) January 15, 2018
A Voyager — used to refuel jets in mid-air — was deployed from RAF Brize Norton and scoured the north coast near John O' Groats.
The fleet then began heading south towards Dundee and Edinburgh just after 10am.
The stand-off is the latest in a series of provocations from Moscow amid heightened tensions with Britain and the West.
A Royal Air Force spokesman, quoted in The Sun, said: "We can confirm that quick reaction alert Typhoon aircraft from RAF Lossiemouth scrambled this morning, this is a live operation and therefore we will not be providing any additional information until the mission is complete."
In September RAF jets from the Moray Firth air base took off to meet Russian military planes near Scotland.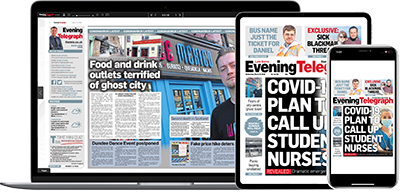 Help support quality local journalism … become a digital subscriber to the Evening Telegraph
For as little as £5.99 a month you can access all of our content, including Premium articles.
Subscribe