After Barcelona's shock comeback against Paris St Germain in the Champions League last-16, there will have been a few sizeable betting wins, but surely none more specific than this one.
Twitter user @Davidreid_88 was given odds of 125-1 on Barcelona qualifying, Edinson Cavani hitting the post, and Lionel Messi scoring a penalty – he put £5 on it, giving himself a chance of a tidy £625 win.
https://twitter.com/BetVictor/status/839550775290445825
And incredibly, the bet came good. Cavani struck the post with a chance early on, before Lionel Messi's penalty shortly after the break put Barca 3-0 up – the Catalan side roared back late on to qualify with three goals in the last seven minutes.
There was, however, a small problem – David claimed his bet had not been classified as a win.
this is a winner???? It's settled as no winner???

— CP (@davidreid_88) March 8, 2017
Cavani had undoubtedly hit the post during the game, so what was the problem?
yes he did?

— CP (@davidreid_88) March 8, 2017
https://twitter.com/BetVictor/status/839597171162951686
It turns out BetVictor's definition of hitting the woodwork is a little different to most other people's.
It's fair to say that, having attracted quite an audience by this stage, the public were not convinced.
Seriously @BetVictor?

It may be in your rules but this doesn't make sense. Either a play hits the woodwork or he doesn't.

@davidreid_88

— MFT – MrFixitsTips (@mrfixitstips) March 8, 2017
Eventually, BetVictor saw sense and decided to pay out – a sensible decision given the overwhelming response in support of the punter.
Despite our rules on woodwork bets, we have decided to pay last night's #PriceItUp bet as a winner. We will publish a statement soon.

— BetVictor (@BetVictor) March 9, 2017
But it might have been too little too late – David tweeted afterwards that he would be closing his account after the incident.
go sort out you're shocking rules even though if the ball hits the post it still Always comes back into play for a small time!!!! pic.twitter.com/xKl0osTxNa

— CP (@davidreid_88) March 9, 2017
BetVictor have since released a statement on the matter, in which they explained that although the initial classification of the bet was in line with their rules, they have decided to make a change.
The statement read: "We accept that in this case with #PriceItUp markets, these terms were not made clear within the individual bet, and, as such, have now settled all bets on this selection as winners. All of the customers involved have been individually contacted by us.
"Moving forward, to avoid any confusion, we will update the relevant rule and publish it ahead of our next #PriceItUp fixture, which is scheduled to be next Monday 13th March for the FA Cup 6th Round clash between Chelsea and Manchester United.
"We can confirm that any shot that hits any part of the woodwork will count going forward. We apologise for any confusion caused."
So that's that then – no more will punters be denied by the woodwork, unlike poor Edinson Cavani.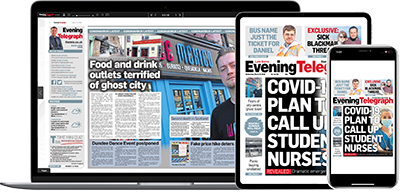 Help support quality local journalism … become a digital subscriber to the Evening Telegraph
Subscribe