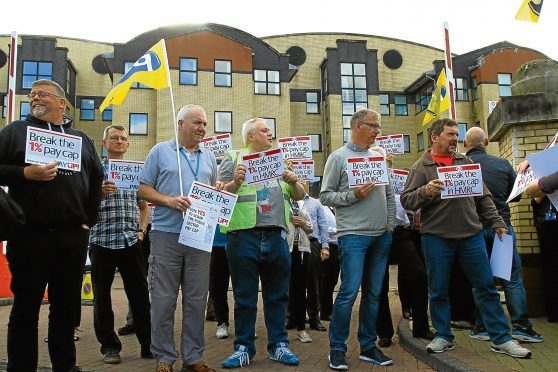 Thousands of public sector workers in Dundee are set to take action in an attempt to force the UK Government to scrap a cap on their wages.
Members of the Public and Commercial Services Union (PCS) gathered in the grounds of the HMRC HQ at Caledonian House to protest the 1% pay cap imposed on them in 2010.
Another protest was taking place yesterday at Sidlaw House.
Lee Vernon, branch chairman of the PCS in Dundee, told the Tele that the union's 2,000 members in the city were "fired up" and prepared to take whatever action was needed in their fight to end the cap on their wages.
The two days of action are being taken ahead of a consultative ballot, which is to be held nationally by the union to ask members what action they were prepared to take.
Mr Vernon said: "Feelings are running high among our members in Dundee about this.
"The pay cap has effectively meant members' pay is down about 9-10% over the past seven to eight years. Our members are fired up about this and are taking action in Dundee to highlight the issue ahead of the month-long ballot."
Mr Vernon said that the 2,000 members in the city were employed at HMRC, at the job centres, by Universal Credit in Scottish Government posts and at the Scottish Courts system.
He said: "The ballot will run for a month, during which time we are expecting our members to vote largely in favour of calling an end to their freeze on wages.
"Among the questions members will be asked is if the Government refuses to scrap the pay cap, will they be prepared to take part in industrial action, and do they agree that should the pay cap be scrapped funds should be made available to provide an above-inflation pay rise?"
A Scottish Government spokeswoman said: "The First Minister has already committed to lifting the 1% pay cap because we understand the impact that rising inflation, increasing living costs and social security cuts are having on working households, and we will set out our plans in the 2018-19 draft budget.
"Public sector workers both in Scotland and across the UK deserve a fair deal, and we will deliver a pay policy that is both affordable and recognises real life circumstances."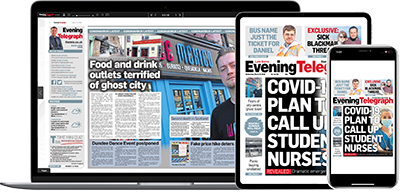 Help support quality local journalism … become a digital subscriber to the Evening Telegraph
For as little as £5.99 a month you can access all of our content, including Premium articles.
Subscribe