A professional dog walker has hit out at a would-be thief who attempted to steal a client's dog over the phone.
Michelle Penny, 37, contacted police following a hoax call to her business TLC Pet Care and Dog Walking Services on Wednesday.
Michelle, from Ballumbie, said that a man called her firm to say he was the brother of a dog owner her business was walking that day.
He had asked for the dog to be dropped off at another location to where the business had originally been told.
She then contacted the real owner, who said they didn't have a brother who lived locally.
Michelle, who has run the business for the last five years, fears this may be a new ploy to kidnap dogs.
She said: "The owners of the dog didn't wish to be identified.
"I felt that we needed to say something just to make other dog walkers aware of what took place.
"The man who phoned had been very confident and claimed to have been a family member.
"He knew the dog by name and said it was to be dropped off to him.
"I can only assume they've seen pictures of it on the company's social media page.
"I didn't walk that particular dog but my colleague had already dropped the dog off with its owner.
"When I contacted the owner I was told they didn't even have a brother who lived locally.
"Naturally, the owner was distressed and contacted the police.
"As I was the one who had dealt with the matter, I was required to contact the police.
"My fear now is that this may be a new ploy in an attempt to take people's dogs. It's certainly the first time I've been aware of this thing.
A spokesman for Police Scotland said: "We have been made aware of the incident and have made relevant inquiries.
"Details have been noted for further reference should more incidents of this type be reported."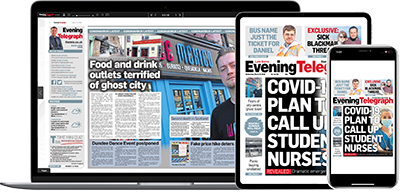 Help support quality local journalism … become a digital subscriber to the Evening Telegraph
For as little as £5.99 a month you can access all of our content, including Premium articles.
Subscribe