The most important part of a wedding is of course two people in love joining together for life — but the second? The dress.
Jenna Longmuir is a consultant at AnnaRose Bridal on Bank Street in Dundee's city centre.
There she acts as a "professional bridesmaid", according to her eight-year-old son Mason, as she supports soon-to-be brides to say yes to the dress.
She began her career at the bridal store five years ago and Jenna admits there are many perks to her job, including attending glamorous fashion shows in London.
She said: "I have to say one of the best parts of my job is going to buying shows twice a year. Myself and owner Anne get to go to these really glamorous catwalks and decide what dresses we want to stock.
"It is amazing. You get so excited about what potential brides are going to be wearing but you have to really think about which dresses are going to suit our market most."
When working with excited brides Jenna knows that a personal touch is incredibly important in making their decision as special as possible.
She explained: "Your wedding is the most important day of your life and picking your dress is a massive part of the organising.
"To work in a bridal store you need to be knowledgeable to help build trust with your bride.
"We take lots of time getting to know our brides and building up a relationship with them so we can best advise the girls on what dresses might work for them. We aren't here just for a sale.
"Girls need to trust me, as it is a very personal experience and also when we get behind the curtain to try on dresses it's not very glamorous so they need to feel comfortable with me.
"Myself and Anne are both young but we have kids and have bits of our bodies we don't like, so I think we are very relatable to a lot of the brides who come in, which is really important.
"It is also a very emotional time for the brides and their families and I get very emotional too when they find their dream dress — I've definitely cried alongside brides. You build up such a close bond with them it is fabulous when you have helped them feel beautiful.
"It is just amazing being in a job where you can be involved in all the love stories and build friendships with lots of different people.
"How could I not love my job?"
Search for bride's dream vision can be very hard work
Although the glitz and glamour of fashion shows and couture gowns make Jenna's job enviable, she admits that some aspects aren't quite as glam as you would think.
"When you get behind the curtain with a bride to try on dresses it is actually a very physical job. Wedding dresses are heavy and when helping a bride into layers and layers of a dress you are sweating.
"It is definitely not like in the films when everyone sits with a glass of champagne, although we sometimes do that too, it is actually very hard work and you are doing fittings for hours every day.
"It can also be very hard when we can't find a bride's dream dress, sometimes what they want just does not exist in a dress. However we always do our best to ensure our brides go away happy."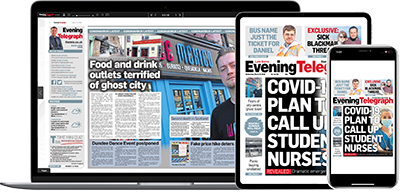 Help support quality local journalism … become a digital subscriber to the Evening Telegraph
For as little as £5.99 a month you can access all of our content, including Premium articles.
Subscribe