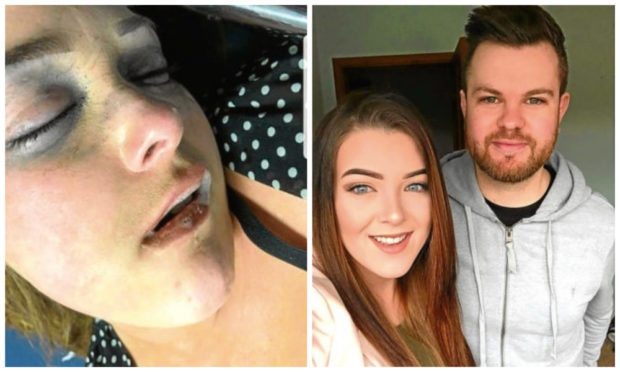 A young mum who was rushed to hospital after her drink was spiked on a night out has urged others to be on their guard.
Cheryl Brown, 22, was out in Edinburgh on Saturday night when she collapsed, banging her head on the pavement.
She said she only had four drinks all night and is sure someone drugged her.
Her partner Dan Morrison said Cheryl seemed "possessed" when she regained consciousness in an ambulance.
Cheryl, who is mum to Harper and Marley and works as an information adviser for travel company Journeycall, said: "Whatever the drug was, it completely took over my whole body.
"I collapsed in the street and smacked my head off the pavement.
"It was so scary and happened so quickly.
"I had four drinks in the space of five hours so it 100% wasn't just alcohol.
"Dan said one minute I was fine, the next I had collapsed outside the bar. He crossed the road to go to the cash machine, turned around and there were about 30 people crowded around me.
"I usually know better than to leave my drink sitting but I got so caught up in the night. I remember briefly waking up in the ambulance and Dan said it was like I was possessed. I was obviously very scared and alarmed.
"I can't really remember what happened until I got to the hospital. I felt panicked and couldn't breathe."
A medical student came to Cheryl's assistance before an ambulance arrived and took her to Edinburgh Royal Infirmary, where she was kept under observation for eight hours.
Cheryl, who is also a gigging musician, said: "The picture Dan took actually makes me feel sick but I felt I had to share it. I would say to people on nights out never to leave their drink unattended.
"The hospital phoned the police and Dan said that they're investigating. Hopefully I can get some answers.
"The doctor told him it wasn't a date-rape drug because they tend to make you sleepy.
"She said it was more likely to be a recreational drug, such as ecstasy.
"My head feels like I've been battered with a baseball bat, so I have to get a scan just to make sure there's no bleeding.
"But I've been very lucky to walk away from this with just bad memories and a sore head. It could have been a lot worse."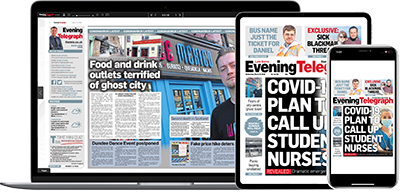 Help support quality local journalism … become a digital subscriber to the Evening Telegraph
Subscribe