A high-end restaurant in Dundee's former City Arcades has closed its doors after a dispute with waiting staff over pay – just three months after opening.
Front-of-house employees at Brassica say they are owed about £20,000 in wages for the past month and also claim suppliers have not been paid.
Management have blamed "short-term cash flow problems" for the closure but vowed to pay staff and reopen soon.
The Shore Terrace restaurant, located under the Caird Hall, opened at the start of June with a promise of "laid-back luxury" for diners.
Several waiting staff said they walked out on Friday over unpaid wages. Although a skeleton staff was able to keep the restaurant open over the weekend it has been unable to open this week.
Signs posted on the doors of Brassica blame "technical difficulties" for the closure and say the restaurant will reopen tonight.
The venue's Facebook page said it "has been closed for training" and will open its doors again next week.
One employee, who asked not to be named, said: "It closed on Friday because all the staff walked out.
"Some worked the weekend but on Monday we still hadn't been paid and so it closed again.
"There has always been an issue with getting paid late but now there is about £20,000 owed in back wages.
"There are about 15 staff who haven't been paid."
Another disgruntled employee added: "We've been told we'll be paid on Thursday but I'm at the point where I am looking for another job."
Another waiter said their social housing landlord was threatening to start eviction proceedings unless they can pay their £330 rent arrears.
The waiter said: "There aren't any technical difficulties, they just can't pay their staff. There have been problems every month."
The restaurant is owned by Tayone Food Limited, whose directors are listed at Companies House as Dea McGill and Rami Sarraf.
Ms McGill said the business was struggling with temporary cash flow issues but promised everyone would be paid what they are owed.
She said: "We have been experiencing cash flow issues.
"Most of the staff have been paid and as money comes in we are paying them. We are clearing it as fast as we can."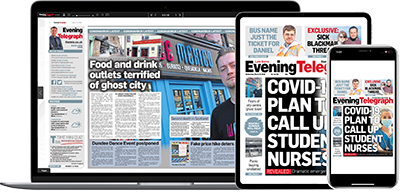 Help support quality local journalism … become a digital subscriber to the Evening Telegraph
For as little as £5.99 a month you can access all of our content, including Premium articles.
Subscribe