A Dundee second-hand furniture store has been saved at the 11th hour after the family of a man who died suddenly donated his belongings.
The Tele previously told of Ollie's Bring and Buy in Hilltown facing an uncertain future after a build-up of snow on the roof melted and flooded the building.
Deborah Martin, owner of Ollie's Bring and Buy, said repairing the damage would cost more than £1,000 — enough to sink the business.
With no other options, Deborah was set to close the store.
However, a positive came out of a tragedy after the family of a 47-year-old man who died suddenly donated the contents of his home – giving the shop a chance to stay open.
Deborah said: "This has been a total nightmare — we had no idea what we were going to do to keep the place open.
"We thought we were going to close but then someone recommended the shop to the family.
"They were going to be renting skips for his stuff but we went up and it was enough for seven Transit van trips.
"It is amazing that the family thought of us — we can't thank them enough.
"It is so nice of them to think of us when they are going through such a hard time.
"He had some really nice things, and he was a bit of a collector, so we are really lucky that the family came to us.
"I can't thank them enough for what they have done — they have saved the shop."
Deborah said the man had owned a host of items — including a collection of antiques.
She said the shop will likely take months of work until it is back to its former glory.
She added: "It will be a long time before we are back to where we are. We have had to move everything from upstairs downstairs to try and save it. We lost so much stuff because of it but now we can look at moving forward.
"The money raised will pay our rent for another month and we can take it from there."
The original flooding took place after Tayside and Fife was battered by the Beast from the East.
After intense rainfall, heavy snow built up on the roof of the building, which Deborah said caused "ankle-deep" flooding.
She previously said she "didn't know what to do." She added: "We had not prepared for an event like the one which took place."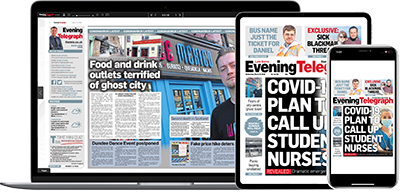 Help support quality local journalism … become a digital subscriber to the Evening Telegraph
Subscribe