An art installation has been created at the High School of Dundee in remembrance of those who fell in the First World War.
Pillars have been transformed with more than 2,000 handmade poppies in a tribute to those who gave their lives.
The poppy installation is just one of a series of events being organised by the school to mark the centenary of the Armistice.
A spokesman said: "The school is immensely proud of all of our former pupils and staff members who served in the First World War, and we hope our installation will be a fitting commemoration of their bravery.
"In recognition of the vital contribution of Dundee's women to the war effort, the symbolic flowers are being made from jute, the material which was used within the city's mills to manufacture the sandbags which lined the Allied trenches of the Western Front."
In order to raise money for Poppyscotland, and to provide the High School community with a chance to purchase a unique and lasting memento, the school is also making identical jute poppies available for sale for £5 each.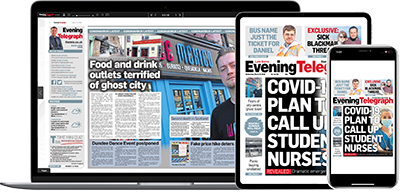 Help support quality local journalism … become a digital subscriber to the Evening Telegraph
Subscribe