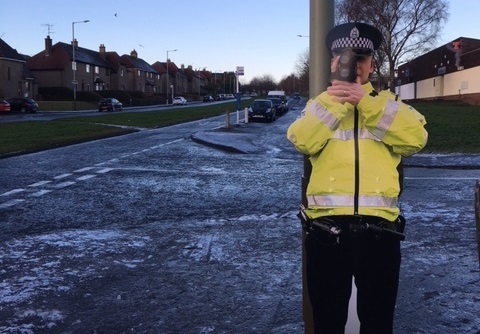 Cut-out policemen are to be put up at speeding hotspots in Dundee as part of a pilot scheme.
The 'scarecrow' models — known as "Pop-up Jims" — have been already been deployed successfully in Fife and will now be put in place by the roadside in the city's Coldside and Strathmartine wards.
The initiative features a life-size police officer with speed gun aimed at reminding drivers to check their speed.
It comes after concerns were raised about speeding at the Local Community Partnerships in both wards.
Sergeant Lesley Mann from Police Scotland's Tayside Division then worked with two local groups, Coldside Community Forum and Kirkton Community Safety Partnership to find the funding.
Dundee Partnership's Community Regeneration Forums in Strathmartine and Coldside agreed to provide the funding to the groups to purchase the 'Pop-up Jims'.
Chief Inspector Nicky Russell, Local Area Commander for Dundee said: "This is a fantastic initiative by the local community team to address concerns from local residents and wider community.
"We will use the Pop-up Jims to tackle the areas of concern as well as enforcing the issues of speeding drivers, to ensure we keep our roads safe for our communities."
Convener of Community Safety and Public Protection Councillor Alan Ross said praised the scheme.
He said: "This is a great initiative which has had the input from the local community, Police Scotland and the council to identify speeding hot spots where these cut out Jims can be used.
"Concerns have been raised about speeding at Local Community Partnerships in both the Starthmartine and Coldside wards and Police Scotland suggested this would be a way to combat that.
"Kirkton Community Safety Partnership and Coldside Community Forum secured funding through the Community Regeneration Forums for the Pop-up Jims and I'm delighted to see them here combating speeding drivers."