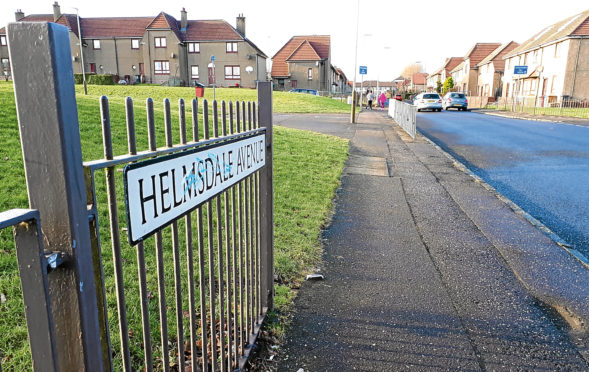 A man was taken to hospital after a collision between a motorbike and a car on a Dundee street which left him with facial injuries.
Police and an ambulance were called to Helmsdale Drive and Helmsdale Avenue in Kirkton after a motorbike collided with the back of a Vauxhall Corsa — with reports of a "pool of blood" in the street.
A man was later taken to Ninewells and treated for injuries to his face.
Residents told of seeing five police cars and an ambulance arrive.
Heather Whyte, 41, who lives on the street, told of her shock at seeing the emergency services.
She said: "I looked out and I saw lots of police cars — there was an ambulance there and a crowd of people had gathered and were watching what was happening."
Shepherd Marodza, 54, said the incident unfolded outside his home.
He said: "I came out and the police were there with their blue flashing lights.
"They were there for a while and about 30 minutes later an ambulance came and took someone away."
Another resident, who did not want to be named, said that they had seen a "pool of blood" on the street next to where the collision had taken place.
She said: "There was a guy on the road and a crowd around him. I saw later there was a pool of blood on the road. There was police, ambulances and a lot of people there.
"The ambulance took him away but the police were there longer."
Another resident added: "There was police all over the place — five cars.
"There was a motorbike sitting smashed in the street for a while.
"The motorbike was completely smashed up and just seemed to be sitting there.
"I had just gotten back from work — an ambulance came later on."
A spokesman for the force confirmed the driver of the bike had been transported to Ninewells Hospital.
He said: "Police Scotland attended in Helmsdale Drive around 6.50pm on Wednesday.
"We were called out to deal with a minor road traffic collision, where a motorcycle collided with the rear of a silver Vauxhall Corsa.
"The male motorcyclist was taken to Ninewells Hospital to have some minor facial injuries treated."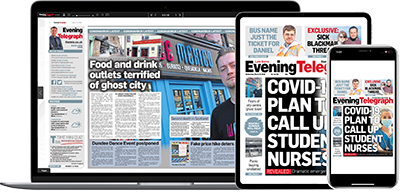 Help support quality local journalism … become a digital subscriber to the Evening Telegraph
Subscribe