Police are set to investigate a complaint about how they handled the arrest of a man accused of attempting to murder a golfer with a chainsaw.
Officers swooped on the Caird Park area on Wednesday and arrested 44-year-old Joe Brown.
Chainsaw 'attack' golfer Arthur thanks 999 crews after alleged incident in Dundee park
The Tele told how Kingsway resident Michelle Hunter was said to have found the alleged assailant on her doorstep in the immediate aftermath of the incident.
The 54-year-old has now complained to Police Scotland about the way officers handled the arrest and acted towards her family. The force says its professional standards division will investigate.
Meanwhile, the use of PAVA spray during the arrest was referred to the Police Investigations and Review Commissioner (PIRC) – a routine course of action for PIRC following the deployment of any firearm by police.
However, the PIRC is not probing this further.
Michelle and daughter Tara, 23, claim officers stormed her driveway, "piled" on the suspect, pushed Michelle aside and manhandled Tara – damaging her phone.
Tara says she managed to get an image on her phone of one officer grabbing her by the wrist and reaching for the device.
Michelle said: "They came in all guns blazing, about 20 of them. It was absolutely ridiculous. It was like they thought they were on TV.
"They didn't apologise. They just kept trying to justify it. But we felt more in danger because of them."
Brown, of Graham Court, appeared in private on petition at Dundee Sheriff Court on Friday.
He is accused of the murder attempt on Arthur Innes, 61, on Wednesday by repeatedly striking him on the head and body with a chainsaw with the engine running, to his severe injury and permanent disfigurement.
He is also alleged to have then assaulted Andrew Hay, 60, at nearby Mains Loan, by repeatedly striking him with a working taser and knocking him to the ground.
Brown is further accused of behaving in a threatening or abusive manner likely to cause fear or alarm, shouting, swearing, brandishing a chainsaw, acting in an aggressive manner and placing people at Graham Court in a state of fear or alarm.
And he is accused of possessing the taser, which is classed as a firearm, disguised as a mobile phone, without lawful authority.
No plea was made and Brown was remanded in custody, with the case continued for further examination.
Chainsaw 'attack' golfer Arthur thanks 999 crews after alleged incident in Dundee park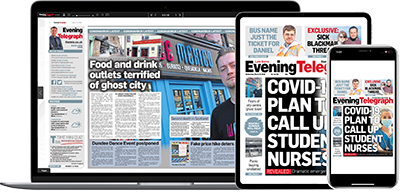 Help support quality local journalism … become a digital subscriber to the Evening Telegraph
For as little as £5.99 a month you can access all of our content, including Premium articles.
Subscribe