Rangers fans have been criticised for kicking over a three-year-old boy's sandcastle.
David Officer, 37, from Stonehaven, said his in-laws had had an unpleasant run-in with supporters of the Glasgow team, who had stopped off in the seaside town on their way up to see their side draw 1-1 at Aberdeen.
He told the Evening Express: "One of the Rangers supporter buses stopped in Stonehaven on Sunday and their fans went down to the beach where my eldest son and his grandparents were.
"They shouted at my father-in-law and then kicked my son's sandcastle over before they left.
"My son wasn't affected by it, but I just don't get it. I don't see the point in all of that. It's just not something you do.
"I know all clubs have their fair share of idiots – but it does seem like you tend to hear more of this behaviour from Rangers fans.
Police Scotland's local area commander Chief Inspector Martin Mackay said officers had made attempts to track down the supporters responsible for the incident.
"Officers in Stonehaven were made aware of a minor incident involving a handful of men who we believe to be football fans that had stopped off in the town for a short time on their way to the game.
"A unit was dispatched and searches made, however they had already left the area.
"Incidents like this may be low-level in nature and very rare, however they are completely unacceptable and unwanted in any of our communities."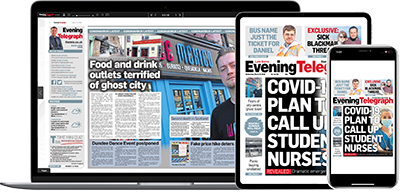 Help support quality local journalism … become a digital subscriber to the Evening Telegraph
Subscribe