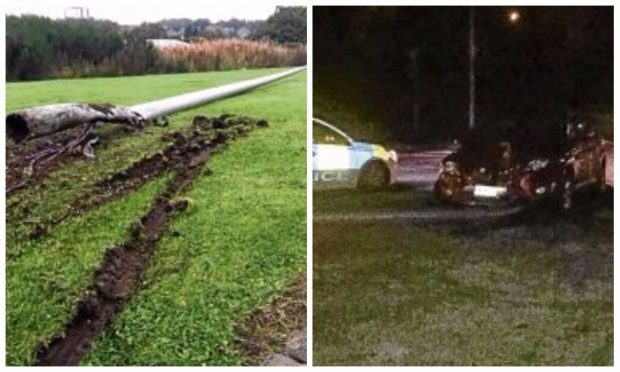 Police have launched an investigation after a woman crashed a car at a busy Dundee roundabout — bringing down a lamp-post.
The 24-year-old is thought to have lost control of a Ford Mondeo in South Road — at the Buttar's Loan junction — bringing down the lamp-post on a grassy area adjacent to the road.
It is understood the woman left the scene of the crash but was traced a short time later.
Eyewitnesses told the Tele that police swarmed to the Charleston street in the immediate aftermath.
A Police Scotland spokesman said: "Police Scotland can confirm that they were called to a road traffic collision in South Road, Dundee, around 11.30pm on Saturday.
"Only one car — a Ford Mondeo — was involved.
"The driver of the car is to be reported for a number of offences."
Eyewitnesses told of police scouring the area.
One resident, who lives near the scene and who asked not to be named, said she saw the occupants leaving the car following the crash.
She added: "We hadn't long got into bed and we heard the bang — it was as loud as anything.
"We knew right away that someone had crashed before we even got up to look out of the window
"The person obviously flew over the roundabout and belted a lamp-post and knocked it over.
"They then got out of the car and walked away.
"They definitely never bolted. I'm sure the one I saw got out of the driver's side and went into the passenger side to get something.
"Then a few of them walked down towards Buttar's Loan.
"There were loads of police cars driving about. I got the impression they were looking for someone."
Another local resident said that the scene following the crash was "a mess".
He added: "The driver has managed to knock the whole lamp-post down — imagine if someone had been under that.
"The grass is all torn up too. One part of the lamp-post was about 50 feet away from the actual crash. It was a total mess.
"The car itself will be a write-off no doubt — the entire front end was crushed into itself."
Police were stationed at the car for a number of hours with a red light flashing.
They remained at the scene until the car was uplifted by a recovery vehicle from Ninewells Garage.
A Tayside Contracts van was also seen at the site the following morning.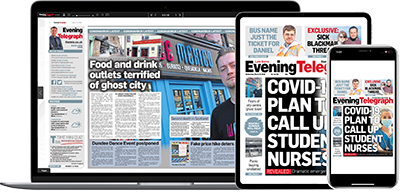 Help support quality local journalism … become a digital subscriber to the Evening Telegraph
Subscribe