Police are investigating after a firework was thrown from a car at pedestrians in Dundee.
A group of people standing outside a convenience store on City Road were targeted in the drive-by attack.
A black Volkswagen Polo had appeared to pull over before a firework was thrown from the car as it drove off.
The vehicle was later seen driving along Cleghorn Street.
Although no one was seriously injured, one motorist who was driving behind the car expressed her horror at what she saw.
She said: "The car was driving really slow, it pulled in then pulled out.
"I was driving behind it when the incident happened.
"They chucked an explosive out of the window at a group of people standing outside the convenience store.
"There was a car coming down City Road that drove into the path of it as it went off.
"I was shocked to see what had happened. It could have caused a serious accident.
"It sounded like a firework, it had that screechy sound.
"As they were driving in front it appeared they had pulled in to light it before driving off.
"Someone threw it from a passenger window.
"The windows were blacked out and it was hard to see how many people were in the car.
"It all happened so quickly, I don't think the people standing outside the shop even knew what was going on."
The incident happened around 6.30pm on Thursday.
Another resident said they had also heard fireworks going off in the street throughout the night.
He said one hit a house while another hit a motor vehicle.
He said: "I couldn't see what direction it had come from.
"There were more problems after 10pm on Thursday as well.
"There were fireworks bouncing off the flats.
"I hadn't seen a vehicle but was aware people might have been on foot launching fireworks."
A spokeswoman for Police Scotland confirmed they were investigating the incident.
She said: "We are aware of the matter and looking into it."
She added: "Anyone with any information is asked to contact Police Scotland on 101 quoting ref 3219 of December 7."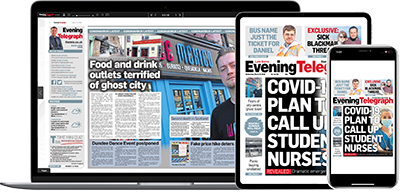 Help support quality local journalism … become a digital subscriber to the Evening Telegraph
Subscribe