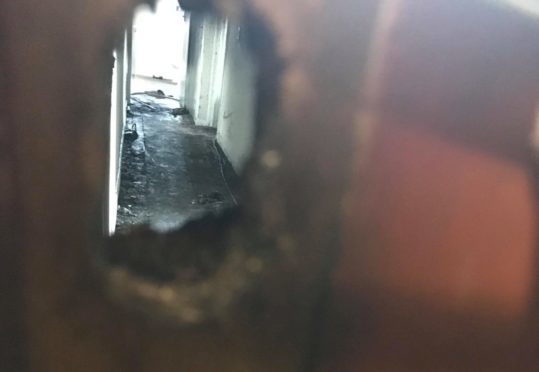 Police have launched an investigation after the door to a flat in a Dundee multi went on fire in suspicious circumstances.
Six fire engines went to Dallfield Court in Hilltown after reports that a door on the seventh floor had been set alight.
Firefighters had to force entry to the flat to put the flames out.
Although no one was injured in the blaze, the door and the inside of the flat were left badly damaged.
The front door of the property remained boarded up on Tuesday, and the plastic from the peep hole was melted, while there was a gap at the bottom of the door where it had been burnt.
The hallway and landing still smelled of smoke and black soot was covering the ceiling near the flat's entrance.
One neighbour returned from a shopping trip to discover a flat on her landing was on fire.
The woman, who declined to be named, said: "I was walking up the Hilltown and saw police and fire engines going in the terrace but didn't think much of it because it happens all the time.
"When I saw they were parked next to my multi I was a wee bit concerned.
"When I tried to get in, a firefighter told me at that point I needed to stay outside. When he said it was on the seventh floor I panicked.
"Luckily I've been told no one was hurt but if the whole thing went up we could have had another Grenfell on our hands.
"I had a look in the place before it was boarded shut and it is a mess inside, it looks destroyed from the front door anyway.
"It's nonsense like this that makes me want out of the multis. I've been here too long."
A police spokeswoman said: "Police Scotland attended at Dallfield Court at 2.10pm on Saturday following reports of a fire.
"A joint investigation has been carried out and the fire is being treated as suspicious.
"No one was injured and inquiries are ongoing."
A fire service spokeswoman said crews used a hydraulic door buster to get into the flat.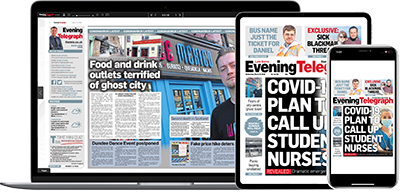 Help support quality local journalism … become a digital subscriber to the Evening Telegraph
For as little as £5.99 a month you can access all of our content, including Premium articles.
Subscribe