Police in Lochee have launched a crackdown to try to catch speeding motorcyclists.
Residents throughout the ward have raised complaints about the issue.
Concerns have been repeatedly shared with local councillors about speeding on Harefield Road and now community police have taken action – with increased patrols and the use of mobile speed cameras.
Particular issues were raised in Dryburgh, where a community action group was formed to call for action on speeding, parked cars and large vehicles squeezing through tight streets.
The issue was raised again recently at Lochee's Local Community Planning Partnership (LCPP) where members were able to express their fears.
Lochee councillor Michael Marra said he welcomed the increased use of mobile speed cameras by police.
He said: "From what I understand, the police are going out with cameras in order to try to catch them.
"We've had a lot of complaints about people on motorbikes and it's been a problem throughout the area.
"I think it's been more of a problem because of the good weather we've seen recently and there have been people ripping down the streets.
"Most of the complaints have come from Charleston and we've had some issues in Dryburgh as well.
"It's certainly welcome for the police to be out with cameras and it's something I'm sure the people will be pleased to see them doing.
"Speeding is still very much an ongoing problem overall and it's something that we'll be working on to improve."
A spokeswoman for Police Scotland said: "Road safety continues to remain a priority for Tayside Division and officers from Lochee have been taking proactive measures to tackle the issue and raise awareness of the dangers of speeding.
"Over the coming weeks, officers will continue to maintain a presence in the western areas of Dundee to educate drivers and take appropriate action to improve road safety.
"We ask that anyone who has concerns about other road users should contact Police Scotland on 101."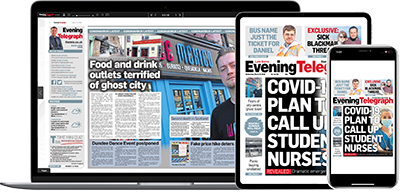 Help support quality local journalism … become a digital subscriber to the Evening Telegraph
Subscribe