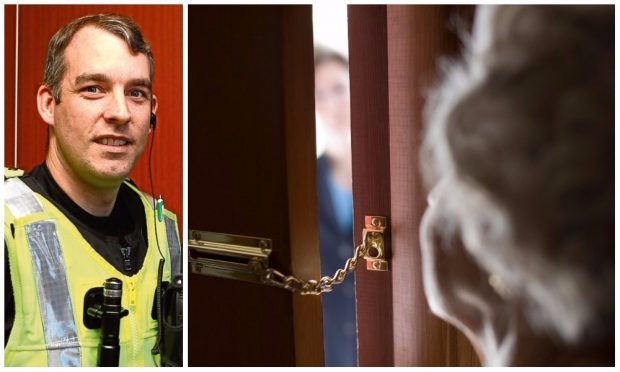 Police have warned that callous cold callers are targeting pensioners for their cash and valuables, amid a spike in reports of bogus workmen.
PC David North, community officer, issued the warning following a spate of incidents in Dundee which have seen residents, often elderly or vulnerable, tricked out of cash and valuables by people posing as legitimate businesses.
He said: "The older generation tends to keep more money in the house than a younger generation — which can make them a target. I would not be using any unsolicited people who come cold calling at the door."
Rogue traders tend to prey on victims in the summer, when people are carrying out home improvements, and appear to be adopting more sophisticated tactics such as registering company names so as to appear legitimate.
PC North said: "A lot of the time, rogue traders are carrying out shoddy work which is under-par but is charged at extortionate rates and they will attempt to get payment at the time.
"People who say they are doing works on roofs have been known to come down from roof spaces with fake pieces of wood and dead woodworms, with claims there are faults within the roof of the property. They will ask for payment there and then.
"Sometimes they will do the work, which is under-par and sometimes they will just never be seen again."
The advice from Police Scotland on dealing with suspected rogue traders is to avoid opening the door to people you don't know and to ask for valid ID that can be verified with a workplace.
PC North conceded it can be "difficult" to trace bogus workmen as they tend to move around and added that people should not be afraid or embarrassed to report them.
He said: "If people aren't happy, we ask that they would contact us on 101. If the person is harassing them or becoming aggressive, call 999.
"It's a very personal thing if someone has carried out a crime within their home address. It's their place of safety, and they can feel that has been taken away from them, so it's something we're targeting."