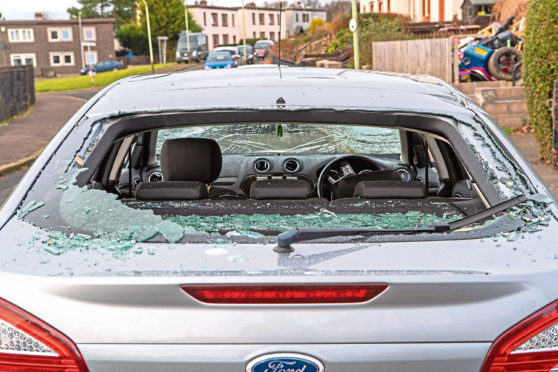 Residents have spoken of their shock after men wearing ski masks badly damaged a neighbour's car with baseball bats in Dryburgh on Monday night.
Police Scotland say officers want to trace four men who fled Dryburgh Crescent in a white Ford Focus shortly before 7pm.
Witnesses said it sounded like a "bomb going off" as the trio smashed the windows of a silver Ford Mondeo.
The damaged vehicle was still in the area yesterday.
The Mondeo's owner was traced by the Tele but declined to speak about the incident.
One resident, who did not want to be named, said it looked like an axe had been taken to the bonnet of the car.
He said: "I understand that when the men arrived in the street they turned their car's lights off so as not to draw too much attention to themselves.
"The guys got out and people are saying they were wearing ski masks.
"I think it has taken the neighbourhood by surprise as it is generally very quiet around here.
"I went past the car this morning and it looks really bad.
"It looks like someone has taken an axe to the bonnet with the marking it has left."
Police confirmed they are looking into the incident and have appealed for anyone with information to come forward.
A spokesman for the force said: "Police Scotland is investigating a vandalism to a car on Dryburgh Crescent which happened shortly after 6.30pm yesterday.
"The car, a silver Ford Mondeo, was seen to be damaged by three men who then got into a white 57-reg Ford Focus and left heading in the direction of Linton Road.
"It is thought that this was a targeted attack as no other vehicles were damaged.
"Officers would like to trace four men who were seen to be involved.
"All were wearing balaclavas or ski masks with all-black clothing, and one wore a hi-vis vest.
"Three were seen to damage the car while the fourth drove the Ford Focus they made off in.
"If anyone has information that could assist our investigation, please call 101 or speak to any police officer.
"Information can also be given anonymously to Crimestoppers on 0800 555111. Our reference is CR/4422/19."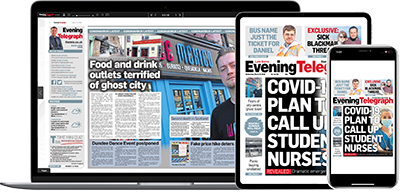 Help support quality local journalism … become a digital subscriber to the Evening Telegraph
Subscribe