An area of the beach at Barry Buddon was cordoned off after a dog walker stumbled across a suspected bomb that later turned out to be a WWII smoke marker.
Paul Morgan, 55, from Monifieth, was walking his dog Fergus along the beach on Friday evening when he spotted the suspicious device.
Paul, who is unemployed, said: "I was walking along my usual stretch of beach with Fergus around 7pm when I spotted something in the sand.
"My first thoughts were it could be a bomb but then I thought it surely couldn't be.
"I walked over to have a closer look and Fergus had a sniff of it as well.
"I wondered if it could be a bottle but I decided pretty quickly on closer inspection that it probably was a bomb. I was pretty shocked."
Paul said he immediately contacted the police who sent three officers to the scene.
"When they arrived I showed them to where it was," he said.
"I think they believed pretty quickly that it was a bomb as they wouldn't go within 50 feet of it.
"The police quickly put a cordon all around the area and were turning other walkers and people on the beach away, not letting anyone near it." Paul said he went back down the next day to find the bomb had been removed.
He added: "I'm pretty certain it was a bomb. I did a bit of research when I got home an found a photograph of an almost identical device discovered on a beach in Wales that was blown up in a safe explosion."
However, an Army spokesman told the Tele that the device had in fact been a Second World War marker – a device that emitted smoke for an extended period of time – and had likely been "expended" during the war.
He said: "An ordinance team was called out from Edinburgh, who attended and found an expended smoke marker had washed up on the beach.
"There was no need to blow it up and the team was able to safely dispose of it."
Police Scotland said: "Police attended and cordoned off the area making it safe for the public. The Explosive Ordnance Department were contacted and attended.
"They made the device safe and removed it from the area. Fortunately, the device does not appear to be have been explosive, but we would like to thank the member of the public who found it."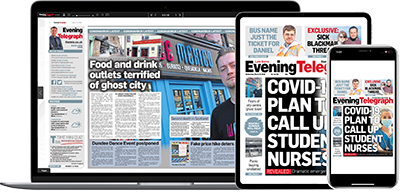 Help support quality local journalism … become a digital subscriber to the Evening Telegraph
For as little as £5.99 a month you can access all of our content, including Premium articles.
Subscribe