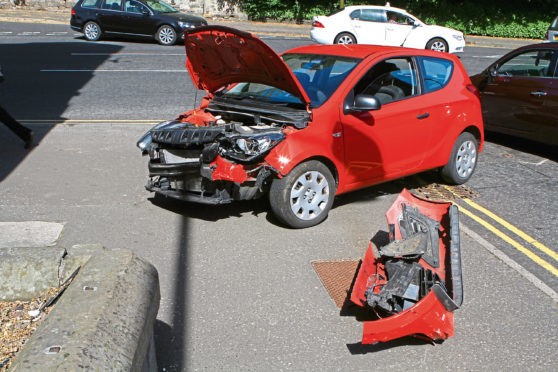 Two cars were involved in a rush-hour smash at a busy junction – as locals expressed fears that another crash could be imminent.
The accident occurred shortly before 3pm on Tuesday at the junction of Cleghorn Street and Lochee Road, and the impact was so violent that one of the vehicle's bumpers was torn off.
The other vehicle, understood to be an Audi, was removed by a recovery vehicle. No one was seriously injured.
However, police and ambulance crews were called to the scene and a passing fire engine stopped to assist.
A witness said he had heard an "almighty bang" before both vehicles came to a halt.
He added that he believed the incident was the third to have occurred at the junction in two months.
Other locals also voiced their concerns about the frequency at which incidents were happening at the busy junction.
Businesswoman and barber Carah Glassey, who owns the Miss Barberette's shop on Cleghorn Street, said there was "always bother" at the junction.
She added: "There are a few crashes every few months there – especially because there are often parked cars all the way down Cleghorn Street.
"You usually can't see out the junction all that well, and because of that you have to creep out, and by that time it can be too late to avoid an accident."
Her co-worker, Jack Kennedy, said: "I avoid that road – that's all I'll say."
West End councillor Fraser Macpherson has called for a review into the junctions around that area of Lochee Road, saying the safety of road users was "paramount".
"The junction at Cleghorn Street, as well as the wider area of Rankine Street and Dudhope Terrace, need a further review," he said.
"This is partly because of the accident rate – as has been evidenced yesterday – and it's concerning that there has been another incident. It's also because of the air quality, as Lochee Road is a frequent target of Friends of the Earth.
"Safety and air quality both need to be addressed."
A police spokesman confirmed officers had attended the incident and that a female casualty from one of the vehicles had been checked over by an ambulance crew.
She did not require further treatment.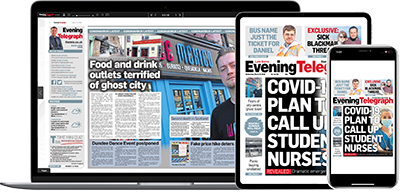 Help support quality local journalism … become a digital subscriber to the Evening Telegraph
Subscribe