The final recommendations of a commission set up to tackle poverty and deprivation in Dundee have been published for the first time.
The Dundee Fighting for Fairness report summarises how key issues affecting people in city are being tackled.
It was launched at the Steeple Church following months of research by the Fairness Commission, whose members met with people and families struggling to get by.
Among the recommendations are creating a single access point for all financial advice services in the city, preparing positive, anti-poverty messages and helping frontline staff including GP surgeries to raise awareness of the impact of poverty on mental health.
John Alexander, leader of Dundee City Council and chairman of the Dundee Partnership, said: "People and money, mental health and stigma are three of the main themes we are looking at because they have featured in all of the stories we have heard.
"We know that far too much poverty that exists in the city and this is one way to target some of the root causes of that – by involving people with real-life experience."
Another recommendation aimed at tackling issues with mental health in the city is to create a 24/7 drop-in service offering clinical, non-clinical, therapeutic and peer support.
The commission had found that people reach crisis point outside normal working hours and cannot self-refer for support when they need it most. It was also found that services did not always treat people in poverty with respect.
The partnership recommended that guidance materials are developed to allow service providers to recruit and train staff with the right values.
On December 12, the recommendations will be presented to Aileen Campbell, Cabinet Secretary for Communities and Local Government.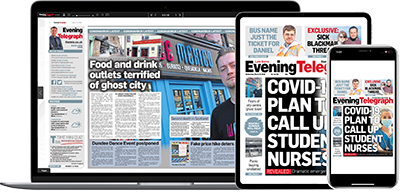 Help support quality local journalism … become a digital subscriber to the Evening Telegraph
Subscribe