A plumber who was sacked after being told to pipe down about unpaid wages has been awarded more than £24,000 at a tribunal.
Neil Keanie was employed as a time-served plumber by McTear Contracts Ltd from December 2016 until May 2017.
He had been working as part of a team which serviced the Fife area, providing refurbishments of bathrooms, installation of wet rooms and floors and heating installations.
However, Mr Keanie became embroiled in a spat with his employers over unpaid wages which resulted in him being sacked and launching legal action against the firm, with a wrongful dismissal claim being lodged.
Mr Keanie was sacked, with his employers citing a downturn in work as being behind the decision – but this was rejected by a tribunal judge.
The claim called at the Employment Tribunal Service, based at Caledonia House, Dundee.
A text conversation between the claimant and Neil Litterick, the company's project manager, was brought before the court.
During the exchange, Mr Keanie said he had been underpaid by amounts ranging from £229 to £217.
He then asked if he could be made exempt from snagging – a process of checking a building for minor faults — until the pay discrepancy was resolved.
However, Mr Litterick responded saying: "Do you not like working here Neil?"
Mr Keanie asked the project manager if "this was a threat" – stating "yes but I like to be paid for the work I do".
Following another exchange regarding the underpayments, Mr Keanie was informed that Keiron McTear, the firm's commercial director, had decided to terminate his employment – with Mr McTear saying he "saw a reduction and a downturn in work".
Mr Keanie then lodged a formal grievance, stating he was dismissed for speaking out about his statutory rights.
Judge Rory McPherson found in favour of the claimant, saying he was owed £23,599 for the 46 weeks that had passed since the dismissal and a further £733 in unlawful deductions and unpaid holiday pay.
He said: "I do not accept the respondent's evidence and submission that the reason for dismissal was due to a downturn in work. I am satisfied the complaint of underpayments was the principal reason for dismissal."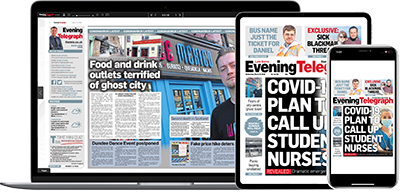 Help support quality local journalism … become a digital subscriber to the Evening Telegraph
Subscribe