A nine-year-old boy who was admitted to hospital suffering from constipation is battling back from potentially lethal sepsis.
Jonathan Williams, from Linlathen, was rushed to Ninewells suffering from a severe form of constipation.
But his condition worsened and the youngster – who suffers from health problems including cerebral palsy and epilepsy – was moved to the Royal Hospital for Sick Children in Edinburgh for further treatment.
Complications with the constipation had enlarged Jonathan's stomach to three times its normal size.
Jonathan, who also has developmental delay and learning difficulties, is a huge fan of the BBC children's entertainer Mr Tumble.
His mum Shelley Forrester, 33, has taken to social media in an attempt to get the funnyman – real name Justin Fletcher – to send Jonathan his best wishes as his recovery continues.
Shelley, who is a full-time carer to Jonathan, said: "He was moved to the specialist ward in Edinburgh and has been on a ventilator.
"All the problems have stemmed from the constipation and he has been really unwell.
"He has suspected sepsis now and has had three major infections.
"The constipation caused the bacteria to grow and cause all these infections.
"He's on a ventilator to help him breathe, which is upsetting for a parent to see. It's really worrying. We've been told he will be in hospital in Edinburgh until at least next week."
Sepsis is a serious complication which can follow an infection. Without quick treatment, it can lead to multiple organ failure and death.
Early symptoms of sepsis may include a high temperature or low body temperature, chills and shivering, a fast heartbeat and fast breathing.
Shelley said Jonathan, who goes to Kingspark School, has learning difficulties but can communicate at a limited level and can understand what others are saying to him.
While she is in Edinburgh with him at the hospital, her partner Jonathan senior and eight-year-old daughter Leah have remained in Dundee.
Shelley said: "Jonathan is an absolutely massive Mr Tumble fan.
"He's his favourite television character by a long way.
"His Mr Tumble toy hasn't left his side since he was admitted to Ninewells.
"If Mr Tumble was to get in touch with him somehow, even an online message, it would absolutely mean the world to Jonathan.
"He saw him on stage two years ago and he couldn't believe it, his face just lit up.
"Even if Mr Tumble was to say 'hi Jonathan' on a recorded message, I think it would help his recovery.
"Our thinking is that if he had that mental boost it could help him physically."
Mr Fletcher's main show is as a presenter and actor on the BBC pre-school television channel CBeebies.
The entertainer speaks and performs in different roles, but is best known for the Mr Tumble character.
He specialises in slapstick comedy and works specifically with special needs children through his show, Something Special.
Shelley has posted on a number of Twitter and Facebook pages to try to reach the TV star.
Hundreds of people have taken to social media to share the posts as well as wishing Jonathan a speedy recovery.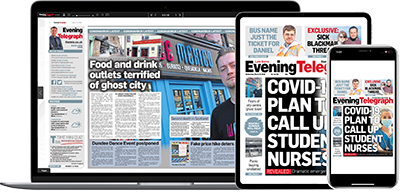 Help support quality local journalism … become a digital subscriber to the Evening Telegraph
For as little as £5.99 a month you can access all of our content, including Premium articles.
Subscribe