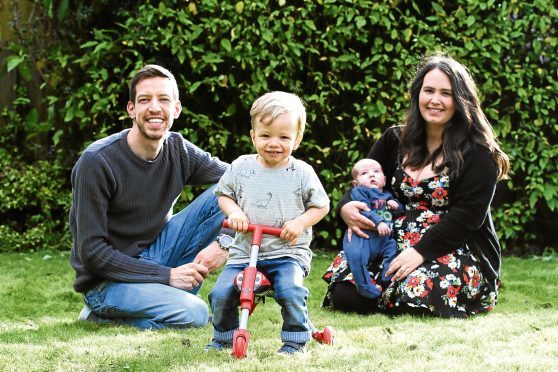 By day, he's making multimillion-pound decisions that affect Dundee's future.
By night, he's being woken up at 4am to give his baby a feed.
That's a day in the life of Dundee's council leader John Alexander — who has revealed how he balances family with the challenges of one of the city's most important jobs.
Since taking over the hot seat in May, John — aged only 29 — has faced a hectic spell at the helm of the council's SNP administration as he battles to keep the city on an upward curve against a backdrop of falling budgets.
But assuming the lead role at the council isn't the only big change he's had in his life recently.
He and wife Sarah, 29, have welcomed baby Noah into the world.
Already with two-year-old Jack, the Alexander household has been living life at a furious pace since John's political career took a major step forward and Noah arrived eight weeks ago.
Despite facing more pressure than most to get things right in his day job, often with a lack of sleep, John insists he's loving life.
He said: "Yes, it's hectic, chaotic and challenging but it's also good fun, exciting and hugely rewarding.
"Sarah is a massive support and I believe that it also puts me in an excellent position to appreciate the issues that families in Dundee are currently facing.
"We've faced debt, homelessness, crime and personal problems the same as many. We understand what folk face on a daily basis because we've experienced it at first-hand too."
The couple have also faced redundancy at an expensive time with two young children.
Sarah was among those laid off when Lloyds Banking Group announced it was paying off 250 workers at its call centre in the city.
Both were also brought up in areas of Dundee which face their own deprivation issues — John is from Kirkton and Sarah grew up in Fintry and Whitfield.
They met at St Saviour's High School when they were both 14 and have been together ever since.
John said: "We're an incredibly strong couple and have fantastic support from the wider family. It's having Sarah and the boys that keeps me grounded."
For her part, Sarah said that John was kind-hearted, dedicated and caring.
"He's also ambitious and cares enormously for the people he represents," she said.
"He's the best kind of politician, the kind who went into politics for all the right reasons."
John said: "If you had asked me a year ago if I would be leading the city council I would have said definitely no. But here I am and I'm trying to do the best job I can for the people of this city.
"Since becoming leader and having Noah I have been juggling to make everything work. It's a balancing act but it's one I think I'm winning.
"Although I've had hundreds of meetings both in Dundee and elsewhere, including with the First Minister, there's a degree of flexibility that goes with the job that means that I can sometimes be at home to help. On other days it can be a 9am to 9pm job and it's on those days when I come through the door that Sarah is more than ready to hand over the care of the boys to me.
"I then take on the role of dad and husband and do all the normal duties other Dundee dads do.
"When I'm planning Dundee's future I think about my boys because they're the generation to be affected by decisions we are taking now."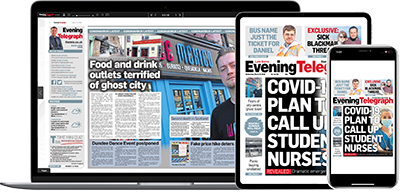 Help support quality local journalism … become a digital subscriber to the Evening Telegraph
Subscribe