Residents in Mill O' Mains are hoping to finally have a new community meeting place – after plans were lodged for a replacement for their fire-hit pavilion.
The city council is set to consider proposals to install a series of temporary modular units on the site of the former building on Hebrides Drive.
The pavilion burned down in summer last year in a fire which was thought to have been started deliberately.
Since then community groups have been forced to meet in other accommodation, including a sheltered housing complex.
The plans have been lodged by Mill O' Mains Action Group.
Yvonne Mullen, chairwoman of Mill O' Mains Pavilion, says she still hopes to get a permanent structure eventually – but welcomed this latest development.
"Once the planning permission goes through, the buildings will be put in place and then it's all go from there," she said. "Hopefully, the people who said they were willing to help us at the beginning, after the fire, are still willing to help us – that would be great.
"We were hoping to be in place for the October holidays. We did hope to be in for summer holidays but that didn't happen.
"We fed the children all summer, every day. We fed them in the park, we were that lucky to have such good weather so we could feed them outside.
"But in October we won't be able to feed them outside – we need our own building so we can give them breakfasts and lunches."
Yvonne said it was "very important" for the community to have its own building.
"Pensioners need their own place they can go to for crafts, their dominoes, and their games night," she added.
"There is no youth group at the moment because we cannot take youths into the building just now, because it's a pensioners' complex, so the youths are being neglected at the moment.
"But we're trying to bring them back in now and rope them into doing things, so that's one of the groups we're hoping to bring back in.
"The children are actually playing dangerous games at the moment, and now that the nights are getting darker we're really worried, because they're playing on the roads with their little toy cars, their bikes and their scooters."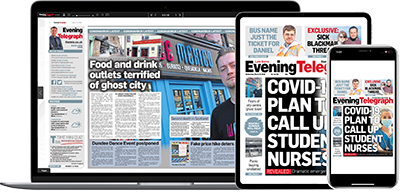 Help support quality local journalism … become a digital subscriber to the Evening Telegraph
For as little as £5.99 a month you can access all of our content, including Premium articles.
Subscribe