Plans have been submitted for a new 24-hour Costa at an Angus retail park.
Angus Council planning chiefs are to consider proposals for the new development at Ethiebeaton Park in Monifieth.
If the application by Whitbread Group is approved, the coffee shop is expected to create up to 18 full-time and part-time jobs.
The proposed development will take up some of the space of an existing car park used in association with the Premier Inn Hotel and Brewers Fayre Restaurant.
Walsingham Planning said in a planning statement: "The proposed coffee shop and drive-thru will be open to the public 24 hours a day.
"This is considered to be entirely acceptable given that the adjacent McDonald's drive-thru restaurant is open or trading 24 hours a day.
"Despite being a town-centre use, drive-thru facilities are, by virtue of their format, generally not suitable for town-centre environments.
"The siting of a modern drive-thru building in Monfieith town centre would be highly unlikely to generate the required level of traffic flow to remain viable.
"The proposed drive-thru is also completely different in format to traditional 'dine in' cafes that one may find in Monifieth town centre."
Four car parking spaces are expected to be lost because the new development will require the existing car park to be changed.
Two disabled bays will be provided for use by Costa customers and there are plans to include a pedestrian crossing across from one of the parking aisles.
Monifeith Community Council's planning application contact Robin Crossland said any new business which helps the local economy is "very valuable".
He said: "People who are local are more likely to get the jobs too.
"I think it's a better idea than the park-and-rides that are popping up in Tayside."
The plans are the latest in a string of proposals to open up Costas across Tayside.
In February 2018, a new Costa at Kingsway West Retail Park between Next Home and Currys/PC World was granted planning permission by Dundee City Council planners.
Costa regularly partners with Next, with coffee stops appearing at clothes stores around the country.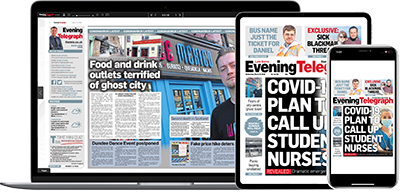 Help support quality local journalism … become a digital subscriber to the Evening Telegraph
Subscribe