A new global creative festival is to be launched in Dundee.
Plans for the Creative Cities Festival to be held in the summer of 2022 are under way.
Organisers just need to secure funding within the year for the six-week event to go ahead.
Plans have been presented to members of Unesco's Creative Cities Work and received backing in principle.
The plans came together after the City of Discovery was made to abandon its bid to become the European Capital of Culture in 2023 as a result of the Brexit vote.
The event is championed by Bryan Beattie, director of Dundee's UK and European culture capital bids.
He said: "The Creative Cities Festival is a brand new concept, which was actually borne pretty quickly out of what happened when the European bid ended so abruptly.
"We wanted to keep the momentum going with similar objectives."
He added this would give Dundee access to the other cities within Unesco's networks.
He said: "This is an opportunity to bring these cities together and take things to the next stage."
Scottish culture secretary Fiona Hyslop said: "This is an exciting opportunity for Dundee to showcase its leadership internationally in re- imagining the city's potential through culture, design and technology, and to strengthen Scotland's cultural ties with the rest of the world."
The festival would include live performances, film screenings, outdoor events, talks and exhibitions and more, including an international youth culture summit.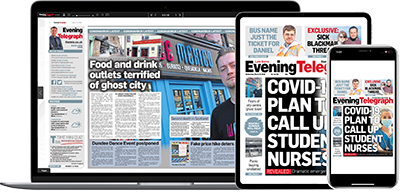 Help support quality local journalism … become a digital subscriber to the Evening Telegraph
For as little as £5.99 a month you can access all of our content, including Premium articles.
Subscribe