The second phase of a new housing development in the north-east of Dundee offering 28 affordable new homes has been unveiled.
Housebuilders Merchant Homes and the housing association Home Group Scotland are behind the multi-phase plan to develop brownfield land between Haddington Avenue, Berwick Drive, Lothian Crescent and Dunbar Park in Whitfield.
The homes will sit directly behind The Crescent community centre, and will be close to Ballumbie Primary School and the new North East Campus "super-school".
Proposals for the first phase of the development, containing 13 homes that will sit on Haddington Avenue, were unveiled earlier this year.
In a planning statement submitted by Merchant Homes and Home Group Scotland (HGS), the firms said the development would suit the Whitfield area due to the ongoing residential regeneration that has unfolded over the last two decades.
The land on which the new homes will sit was once the site of the Skarne-style blocks which dominated the Whitfield skyline.
The new homes, the planners have pledged, will have affordable rents and be energy-efficient.
The companies jointly said: "The proposal is for residential development that will provide a viable and marketable development consisting of private and affordable housing.
"This is an awkward and challenging site in terms of shape, topography and existing services.
"These factors have largely shaped the approach that has been taken to the development of the layout for the three phases.
"Consequently, it is felt that the proposals respond to the client's brief and the requirements of Dundee City Council's Local Development Plan to provide a design solution of high quality, which harmonises with the location and provides a development of high quality for the future residents."
In all, the completed development will have 41 homes, all of which will have driveways, and 75% of the homes will have at least three bedrooms.
HGS is also involved in other developments in the Whitfield area, such as the new-build homes which have been constructed on Summerfield Avenue.
The developers have said the homes will look much the same as those that have been built already.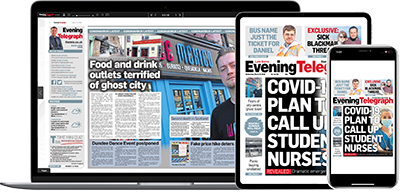 Help support quality local journalism … become a digital subscriber to the Evening Telegraph
Subscribe