Plans for a £12 million development at a former Dundee College building are under threat after fears over funding.
Voxcap Investments received the go ahead from Dundee City Council to transform the derelict property on Constitution Road into 135 homes, a gym and cinema.
But now a company director has confirmed the project is in serious doubt because of funding concerns, saying: "Everything is uncertain."
Demolition crews were supposed to start preliminary work after the development was given the go-ahead in February.
Building work was scheduled to begin in July with the aim of being ready for its first tenants in summer 2019.
However, the building has been untouched since perimeter hoardings were erected.
Eve McCurrich, residential director for Voxcap, told the Tele: "I can't divulge too much. We're in the process of doing our due diligence on funding but hopefully we will know for certain in the next few months. Everything is uncertain.
"The funding is working its way through the process but the original target we set won't be met.
"We still have security on patrol on a daily basis as well as remote cameras so we are continuing to secure the building."
The development is due to include a cafe, gym and studio, launderette, lounge and dining areas as well as a cinema in a former lecture theatre.
The city council's planning committee backed the project by 22 votes to five. Voxcap's original plan was redesigned to include 111 flats and 24 short-stay apartments.
Planning permission was initially granted for the development in 2016 but the funds needed to proceed with the project were no longer available.
Dundee College closed the campus in 2011 and it has since become a target for vandals.
Alison Henderson, CEO of Dundee and Angus Chamber of Commerce, said: "We originally had contact with them at the start of the year but we've heard nothing since.
"It doesn't seem as though anything has been done. We originally had positive conversations.
"It's a big development so fingers crossed they will be able to make it work."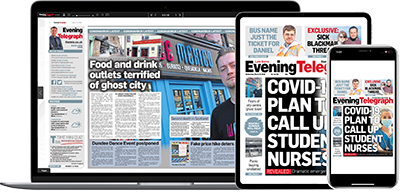 Help support quality local journalism … become a digital subscriber to the Evening Telegraph
Subscribe