An opposition councillor has criticised a potential merger of two of the city's schools, slamming it as a "cost-saving exercise".
Labour representative Michael Marra was responding to the announcement that consideration is being given to the merger of Braeview Academy and Craigie High.
The SNP administration previously denied a merger was on the cards.
Now, a public consultation is set to go ahead, with education chief Stewart Hunter saying a new shared campus would have "better facilities" for pupils – although refurbishing the existing schools is still a possibility.
Mr Marra said: "We were accused of scaremongering when we raised this in 2017 and we can see this wasn't the case. Despite previous assurances that a merger was not an option under this administration, we are now seeing that exact proposal coming before members.
"This process is nothing more than a cost-saving exercise. What we need to be doing is investing in our children's future."
Children and families service convener Councillor Stewart Hunter said: "We are going to have an informal conversation. There is no set plan, no decision made and we are going to see what people have to say.
"It would mean the pupils of both schools would get a new school much quicker than if we stick to the original plan. A merged school would have better facilities and be bigger so there would be more opportunities.
"I appreciate there are pros and cons. The pros are there would be better facilities. But it would also mean two different school communities with strong identities would have to come together and some people see this as a downside.
"The administration group has not decided how we move forward which is why we are having this conversation. It will give us a chance to listen to what people have to say before we have to make a decision."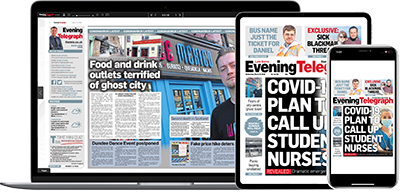 Help support quality local journalism … become a digital subscriber to the Evening Telegraph
Subscribe