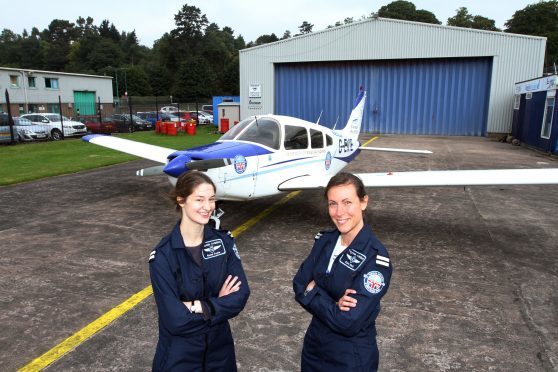 Two Dundee-based pilots are gearing up to circumnavigate the UK to encourage women into aviation.
Ten years after Evie Saunders bestowed an aircraft to Tayside Aviation, in which more than 260 scholarships have now been completed, Rachel Foyle and Claire Birch are embarking on a special 10-day trip in Evie's honour to entice more women into the industry.
At present, only 12% of UK pilots are female. In 1985, by then aged 64, Evie began her studies and flying lessons, receiving her pilot's licence in 1989.
She went on to obtain a night-rating, instrument-rating and twin-engine rating, later becoming fully licensed in each category in the United States as well as the UK.
When she was well over the age of 70, she entered and won a number of flying competitions against younger and more experienced pilots.
In 2003, Evie took ill and set out to purchase an aircraft for the benefit of helping young people to learn to fly.
Evie died in 2004 before having the chance to fly G-EVIE, the PA 28 Piper Warrior aircraft she bought.
But her niece Lorraine set out to ensure that Evie's dream became a reality. In 2008, G-EVIE was donated to Tayside Aviation in Dundee, in order to run scholarships on behalf of the Air League Educational Trust.
Now, Rachel and Claire are preparing for "Evie's Grand Tour of Britain" to fly round the UK in G-EVIE.
Rachel, 23, a University of St Andrews graduate, is one of 15 women currently enrolled on the BSc Professional Pilot Aviation Practice course at Tayside Aviation.
She said: "Evie was a remarkable woman and we hope our trip will keep her spirit in the skies and inspire others to realise their aviation aspirations."
Claire, 35, originally from Buckinghamshire, began flying at 14 following a gift lesson from her dad and is a former RAF Navigator who spent 10 years in the back seat of a Tornado fighter including a detachment in the Falkland Islands.
Now Safety Officer at Tayside Aviation, Claire is working towards her commercial pilot's licence. Evie's Grand Tour will also allow her to tick off the 450-mile cross country trip which is a key part of her training.
Claire said: "The trip is a fantastic opportunity to enthuse, encourage and inform women about the opportunities within aviation."