A Tayside woman who has just months to live has started planning her own funeral.
Tracey Halliday, from Perth, has already decided on a pink wicker coffin and has chosen three songs by some of her favourite artists to be played at the service.
The 41-year-old was diagnosed with cancer of the womb in 2015 – just a month before she was due to be married.
Then in 2017, Tracey was told her cancer was terminal – although doctors were unable to give her an estimate at that stage about how long she had left.
But at an appointment with her doctors last week, Tracey was given the bombshell news she had just months to live.
She has now turned her attention to ensuring she makes the most of the time she has left.
Tracey said: "I was devastated. I knew that I was dying but I did think I would have longer than this.
"I'm now just trying to concentrate on taking one day at a time.
"I've made up my mind to enjoy what's left of my life as much as I can.
"I have also started planning my funeral.
"I've decided that with the time I have left I might as well take control of what I want to happen at my funeral.
"I haven't chosen a location yet but I want it to be somewhere in the countryside with a lovely view.
"I have also chosen a pink wicker coffin and three of my favourite songs – Chandelier by Sia, Angels by Robbie Williams and Suddenly I See by KT Tunstall.
"I suppose it is quite poignant and sad but the way I'm looking at it is that not everyone gets to plan everything they want to make their funeral perfect.
"I will be able to look down on the day and know it is exactly what I wanted."
Tracey said she was also planning one final trip to Blackpool with her husband Willie.
She said: "We're planning to go away on February 7 so I'm really excited about that.
"I'm not in very much pain so we should be able to have a really nice time.
"I just want to make some memories for Willie for when I'm gone."
Tracey, who grew up in Coupar Angus, said she had suffered health problems linked to her womb throughout her teenage years.
She added: "I went to the doctor but kept being told it was nothing.
"Cancer of the womb is more common in women over 50 and because I was so young I don't think anybody believed I could have it.
"I had to have chemotherapy, radiotherapy and brachytherapy over a six-month period in 2015.
"Having a hysterectomy was devastating because I'd just got married."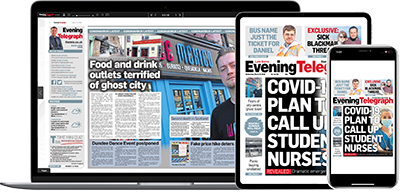 Help support quality local journalism … become a digital subscriber to the Evening Telegraph
For as little as £5.99 a month you can access all of our content, including Premium articles.
Subscribe